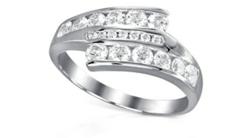 With inquiries coming in from all around the US from customers seeking to promote our quality, fine jewelry, we recognized the need to expand our advertising outreach.
(PRWEB) December 04, 2012
On Friday, Gemorie.com, announced from their headquarters in California, that they have officially launched their affiliate marketing program on the Commission Junction Network (CJ). Partnering with leading affiliate agency, Experience Advertising, Inc.. Gemorie.com is excited to offer participating affiliates superior affiliate management, including 24/7 phone, email, chat, and text support, in addition to generous rewards and compensation.
This popular online retailer of fine jewelry features the latest and trendiest jewelry designs and is already experiencing a tremendous amount of interest from publishers eager to promote Gemorie's exquisite collection of quality, precious and semi-precious gemstone jewelry. Gemorie.com's website offers a substantial collection of handpicked, high quality gemstones in a variety of hues and settings. This dedicated gemstone retailer is also delighting customers with a brilliant spectrum of birthstones and exclusive designs. Their experienced and well-trained design team is available to help customers create spectacular engagement, wedding or anniversary jewelry in addition to other memorable jewelry pieces for any occasion.
Gemorie's commendable reputation in the fine jewelry industry continues to generate high traffic to their well designed and user friendly website. Gemorie sales and customer satisfaction have increased dramatically in recent months prompting CMO, Hideaki Mishima to obtain expert management from Experience Advertising, Inc. to help launch and manage their new affiliate marketing program on Commission Junction. "With inquiries coming in from all around the US from customers seeking to promote our quality, fine jewelry, we recognized the need to expand our advertising outreach. Experience Advertising is well known for its success in managing thousands of affiliates on the major networks and we're confident after speaking with CEO, Evan Weber, and others in the industry, that Experience Advertising would be able to best represent and manage our company's new affiliate program."
The natural gemstones available at Gemorie.com are considered superior in quality and are always shipped free of charge. The company stands behind their products and guarantees satisfaction on all customer orders. Gemorie.com's gemstones are certified by the Gemological Institute of America (GIA), the world's largest, oldest, and most esteemed independent and non-profit laboratories and the Better Business Bureau has determined that this company meets their accreditation standards. Whether it's a sparkling blue sapphire, a deep green emerald or a fiery ruby, Gemorie.com prides itself in the quality and high level of artful craftsmanship that goes into each and every piece of Gemorie jewelry.
Gemorie.com has been continually broadening its business model while expanding its product line and services. Gemorie is committed to staying ahead of the style trends by introducing the latest designs in fine jewelry on their "New Arrivals" landing page. The company is already receiving positive feedback from its affiliates and looks forward to continued success as approved publishers begin promoting Gemorie.com on their websites, blogs and other social media venues. For those interested in becoming a web publisher in the Gemorie.com affiliate program, the following benefits are currently being offered:
● 90 day cookie life
● $180 average order size
● Excellent 10% commission, with performance incentives available
● Reliable affiliate tracking via the Commission Junction Network (CJ)
● Product Datafeed available in CJ
● 24/7 support by dedicated affiliate management agency, Experience Advertising, Inc.
● Free affiliate resources, tutorials and articles
● Frequent affiliate newsletters with special promotions and marketing tips
● All types of banner sizes, custom banner sizes and designs
Gemorie.com is a leading fine jewelry retailer frequented by jewelry connoisseurs from around the world. In addition to its trendy and classic designs, Gemorie affiliates will also be able to promote an exclusive collection of jewelry designs manufactured solely for Gemorie.com customers. For an excellent income opportunity as an affiliate publisher, visit the affiliate sign-page here.