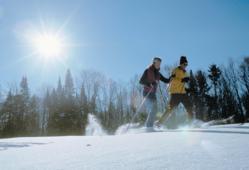 The New Year Brings Winter Events and Family-Friendly Fun in the Adirondack Mountains
Adirondack Region, NY (PRWEB) December 04, 2012
The Adirondacks are home to winter traditions that span centuries, generations and most importantly, enliven even the coldest winter days. As snow descends on the Adirondack Mountains in Northern New York, families can look forward to a host of off-the-beaten-path winter events offering the best of the outdoors and the Adirondack Region's rural communities.
Top Adirondack Winter Festivals and Events include:
First Night – December 31 in Saranac Lake is a family-oriented, alcohol-free celebration of the arts to welcome in the New Year. Purchase a $12 First Night 2013 Button at participating stores throughout the village and gain admittance to 21 entertainment acts in 11 different venues, including musical entertainment and dancing.
Hickory Telemark Festival – March 2 in at the Hickory Ski Center in Warrensburg. Ski the legend and learn how to telemark at Hickory Ski Center. A series of free clinics will be offered, as well as demonstrations. Watch or join in the Tour de Trees and Telemark Challenge Race. Enjoy après ski barbecue and live music.
Cock-A-Doodle-Shoe Snowshoe Race – January 20 at the New Land Trust in Saranac. A northeast regional qualifier for the 2013 USSSA National Snowshoe Championships held in Bend Oregon, this race traverses the rolling hills of the New Land Trust's 287 acres. Entry fee is $15 and includes a t-shirt and post-race refreshments.
Eastern Synchronized Skating Sectional Championships – January 31-February 2 at the Lake Placid Olympic Center. Watch more than 250 teams from the east coast compete in this qualifying event for the U.S. Synchronized Skating Championships. Tickets are $17 for adults and $14 for juniors and seniors. Tickets for kids 6 years and under are free.
Canton Winterfest – February 7-16 in Canton. This annual St. Lawrence Region event kicks off with outdoor concerts and theatrical shows, craft demos and workshops, a chili cook-off and sports tournaments. Enjoy free movie showings, concerts and more.
Frozen Fire & Lights Festival – February 23 at Arrowhead Park in Inlet. A family-friendly celebration of winter offering a day of events including ice-skating, snowshoeing, Nordic skiing and fireworks. Warm up at the bonfire with free refreshments.
About the Adirondacks:
The Adirondack Region is a six-million-acre park offering limitless recreation amid 2,000 miles of hiking trails and 3,000 lakes and ponds. Connect on Facebook.com/visitadirondacks or Twitter.com/visitadks. Search Adirondack events, attractions and vacation packages at VisitAdirondacks.com.