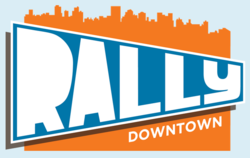 New York, NY (PRWEB) December 06, 2012
A growing coalition of community organizations, small business owners, city officials and neighborhood champions are launching a two-day "Shop Local" event called Rally Downtown on Dec 7-8. Sponsored by Foursquare and online ordering service FoodtoEat.com, the program aims to get folks to support local businesses still hurting from Sandy and create a shop local program that is easily replicated in other neighborhoods in NYC.
Rally Downtown is anchored by two big initiatives:
•A Foursquare small business scavenger hunt across lower Manhattan on Dec 7. When people arrive at each business, they'll check in with Foursquare and complete unique tasks at each shop.
•Neighborhood restaurant, bar and family-friendly shopping "crawls" on Dec 8. Sponsored by NYC based online food ordering and catering service FoodtoEat.com, and food blog New Fork City, participating venues will offer unique activities and incentives ranging from discounts and food pairings to children's activities. All proceeds from tickets and raffles for the crawls will be pooled and distributed among participating vendors at the end of the day.
Rally Downtown is the kick off for Startup New York, a non-profit coalition that exists entirely to support the small business community post-Sandy. StartUp New York is the leading resource for small businesses affected by Hurricane Sandy. The StartUp New York Coalition is a mission driven organization comprised of business professionals, non-profit leaders, and motivated New Yorkers. We believe that small businesses are the lifeblood of the economy in New York City, and we are dedicated to helping businesses throughout the five boroughs get back on their feet and succeed.
On Saturday, December 8th six food crawls will be simultaneously held in East Village, West Village, Chelsea, Murray Hill, TriBeCa and Lower Manhattan. Participating restaurants will offer specials from their regular menus exclusively for food crawlers. All proceeds from the event go to participating restaurants, customers can view the vendors and purchase tickets here.
StartUp New York seeks to provide innovative and effective programs and services to support small businesses affected by Hurricane Sandy. Some of its key initiatives include marketing NYC businesses to increase tourism and economic growth, keeping businesses informed about the resources available to them and organizing events to promote and educate small businesses.
"Sandy brought 3 feet of water into our restaurant, causing us to close our doors. Luckily, during these tough times, the community has really been supportive of local business. Neighbors and friends have helped fund-raise and get us back on our feet. Rally Downtown is another amazing way the community is coming together to support neighborhood spots like ours." Kevin Micelli, co-owner of Ciao for Now
"I am proud to support StartUp New York's efforts to help small businesses recover from Superstorm Sandy. Rally Downtown is an excellent opportunity for New Yorkers to show their appreciation for the restaurants and shops of lower Manhattan, and I urge New Yorkers from all parts of the city to participate. This event is a critical reminder that the small businesses we love need our continued support to get back on their feet." Said Manhattan Borough President Scott Stringer