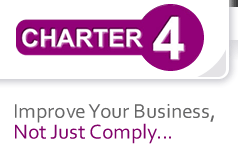 (PRWEB UK) 11 December 2012
The ISO 9001 Quality Management Standard is now being revised and will be updated. The provisional date for publishing the revised Standard is 2015. Businesses will be required to make changes in order to meet the new requirements; if changes are not implemented their certification will become void. Charter 4 has extensive experience across a diverse spread of sectors. They have successfully assisted hundreds of companies to achieve ISO 9001 Standard certification.
In theory, ISO Standards are reviewed every 5 to 6 years, but in practice the frequency has varied considerably. ISO 9001 is the most important and widely used of all of the ISO Standards; at present there are over 19,000 published Standards. Most are technical, rather than management standards.
ISO 9001 has been updated in 1994, 2000 and the latest and current version was published in 2008
Why the changes?
The emphasis will be assisting the integration of the different Management Standards.
What the changes are:
The changes will be based on the new ISO Supplement Annex, which provides a common wording, definitions and a top-level 10 Clause format for all Management Standards.
Additionally OHSAS 18001 is also looking at the same issues but the revised version may be a little behind ISO 9001 & 14001.
The present changes are planned for all the existing Management Standards and include:
1. New High level structure
2. Use of identical definitions
3. Use of identical text
4. Other changes - Additionally it is the opportunity for the Technical Committee to action more radical changes to move the Standard forward. This is particularly because it is 15 years since the last radical update
All certified organisations will have to revise their Quality system to update and comply with the new Management Standard, which will be checked during the Surveillance/Transition visit from their certification organisation. For ISO 9001, this is over 1.1 million certified organisations worldwide.
All certified companies will be required to change to the new requirements:

If the changes are considered minor, then this is done at the company's next surveillance visit, which is at least once per year. (This happened with the change to the ISO 9001 standard in 2008).
If they are major, then a transition period of up to 3 years for companies to transfer to the news standards (This happened with the change to ISO 9001 standard in the year 2000).
After the transition period, the certificates to the previous version of the standard are void.
Charter 4 believe in assisting organisations to achieve their aims, improve and incidentally comply with the relevant International Management Standards.