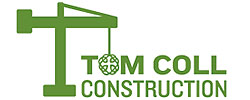 This is our largest project to date and following another recent lounge project Coll Construction is becoming known as the 'go to' contractor in the Bay Area for this type of high-profile project - Tom Coll, owner
San Francisco, CA (PRWEB) December 10, 2012
Coll Construction, San Francisco's premier general contractor, is pleased to announce the start of a commercial project for a new lounge in the SOMA district of San Francisco. After recently completing a similar project, the company is excited to start another commercial project on a larger scale. The project is an example of the growth taking place in the mid-Market St. area and illustrates Coll Construction's growth from smaller residential projects to large commercial projects.
"This is our largest project to date," said Tom Coll, owner of Coll Construction. "And following the completion of another recent lounge project, Coll Construction is becoming known as the "go to" contractor in the Bay Area for this type of high-profile project."
The new bar/lounge is located a short distance from the San Francisco Museum of Modern Art and will feature the finest accents and finishes. The project was designed by Gold Grenade Architecture + Design of Los Angeles and operated by N662 DBA Novela of San Francisco. The project is slated to be completed in the 2nd quarter of 2013.
The new project at 662 Mission Street signals the next step in Coll Construction's success in managing projects that exceed $400,000 in cost, and project management involving architects, managers and owners on a global basis. For complete information about Coll Construction, visit their website at http://www.collconstruction.com.
About the company:
Tom Coll Construction is a licensed full-service general contractor, serving the San Francisco Bay area since 1995. From concept to completion, customers can be assured that their highly skilled professionals will make all the difference with home & commercial needs. For more information, please visit their website at http://www.collconstruction.com.