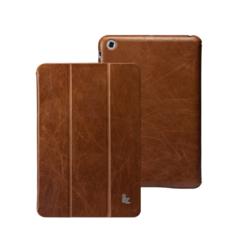 "Our gorgeous real leather iPad Mini cases are the perfect match for Christmas 2012's hottest present the Apple ipad Mini"
(PRWEB UK) 6 December 2012
A niche website selling iPad cases has unveiled its range of cases for the iPad Mini, just in time for Christmas.
SympleUK.com have been selling iPad cases since 2010 and have just added a huge range of leather ipad mini cases, ready to fit the expected biggest gift of Christmas 2012 - the Apple iPad Mini.
The two biggest sellers already are the Jisoncase Mini Vintage Leather Case and the Jisoncase Mini Quilted Leather range, both of which sold out in minutes at a recent Christmas Fair.
Formed in 2010, Symple's owners saw a gap in the market for iPad accessories. "While living in Hong Kong, it became obvious that the UK was not at that time catering for ipad owners so after scouring the market for the best ipad cases, we created an online store", said its director.
Initially under name "Buy iPad Cases" the site recently rebranded as Symple, to reflect its unique approach of selling simply great cases with great service. It intends to launch its own brand cases under the same name in 2013.
Apple's iPad Mini was launched at the end of October and Symple are delighted to announce the release of its iPad Mini Case range. From a wide range of high quality suppliers, and featuring genuine leather and great design features, all of Symple's iPad Mini Cases have been designed specifically to fit the device perfectly. Most of the cases feature the Smart Cover technology which puts the iPad to sleep and wakes it when opening and closing the cover. They feature cut outs for all the relevant buttons on the iPad, including the new lightning connection.
With iPad Mini expected to be at the top of everyone over 8's Christmas List, Symple are looking forward to a bumper Christmas. The shop also sells cases for Amazon's Kindle Fire and Google's Nexus 7, Apple's main contenders in the fight of Christmas number one.
The iPad mini is a 7.9" inch touchscreen tablet but the diminutive screen size does not compromise what is displayed - it features the same number of pixels as the iPad 2 which means all the apps, websites, photos etc look great. The processor is snappy and comes in 16gb, 32gb and 64gb storage capacities.
For all types of iPad cases including iPad mini cases and covers, iPad 2-iPad 4 cases and other tablet cases, visit SympleUK.com. Follow Symple on Twitter @buyipadcases and on Facebook at Facebook.com/buyipadcases