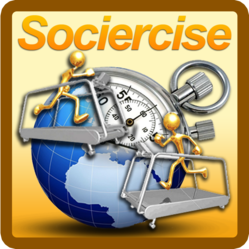 Atlanta, GA (PRWEB) December 06, 2012
Sociercise, LLC, a technology start-up in Atlanta,GA, is launching a new app that will revolutionize training for recreational and professional runners. The Sociercise-Real Time Running Races app for iPhone promises to replace the need for multiple gadgets and exercise tracking programs, and covers new territory with a technology allowing users to compete in real time, peer to peer races anytime, anywhere.
Launching on December 13th, Sociercise is a fully featured mobile application that boasts run tracking, goal setting and monitoring, as well as event sharing capabilities. The racing application will enable runners to compete and train with other users in remote locations in real time, which is a very unique feature to this app. While other apps on the market may replace GPS watches or manual tracking programs, no other offers live remote racing. The company's founders, Tom Vinkler and Bobby Valentine, believe that this motivational feature of the app is what makes Sociercise truly different, and that it will give new incentive to competitive runners, transforming their training.
A future version of the iPhone running app will enable non-profit organizations to host charity fund raising races, utilizing that same remote technology. During such events an organization can raise money directly through the Sociercise platform, and non-profits will no longer be limited by geography or time frame, saving overhead costs and increasing participation in events. The future version will also enable peer to peer racing and run tracking for treadmill runners. The Sociercise app is expected to be a uniquely functional, and popular new addition to the iPhone for runners everywhere.
App Features

Compete in Real-Time Races against other Runners from around the world. 
Watch your race progress in real-time through the racing interface 
Dynamic Race Calendar (Races are scheduled throughout the day at different times and distances) 
Invite Facebook friends to join you in a race 
Play your own music while you run and race 
Audio Cues update your progress and provide race details 
Send messages to other racers 
See and share your course with Maps Integration 
Set and track goals. (Weight Loss, Distance, Time, Calories) 
Save and share your race history with Facebook and Twitter integration 
Perform Individual Workouts and track your individual running data 
Log workouts outside of Sociercise (outdoor walking and running, treadmill walking and running) 
Free Personal Locker Room on http://www.sociercise.com (see all your racing and running data on the website) 
*Earn Points for each race that you complete and each racer you beat 
Technical Details
Device Requirements:
Sociercise Real Time Running Races requires an iPhone with iOS 4.2 or later and 6.5 MB of storage space.
Pricing and availability
Sociercise-Real Time Running Races through the AppStore in the Health and Fitness category and will be free for a limited time beginning on December 13, 2012. Review copies are available immediately upon request.
Website Links
Website:http://www.sociercise.com/
Sociercise-Real Time Running Races in AppStore: https://itunes.apple.com/us/app/sociercise-real-time-running/id567206550?ls=1&mt=8
Video Tutorial: http://youtu.be/OoAlEYT64Tw
About Us:
Tom Vinkler and Bobby Valentine are proponents of the fit and balanced life, where the combination of exercise, competition, social interaction, and social good combine to form a well rounded existence.  These core principles guide the development of the Sociercise platform.  Sociercise is more than an application or a website, it is a way of life.
Copyright © 2012 Sociercise, LLC. All Rights Reserved. Apple, the Apple logo, iPhone, iPod and iPad are registered trademarks of Apple Inc. in the U.S. and/or other countries. Google and Android are trademarks of Google Inc.