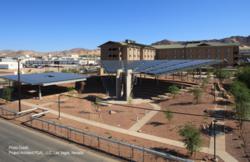 San Diego, California (PRWEB) December 06, 2012
The Bachelor Enlisted Quarters and Parking Structure project at Twentynine Palms, designed and built by the Straub-Martin Harris Joint Venture (SMJHV) with PGAL Architects, won highest honors at the 2012 Excellence in Construction Awards sponsored by the Associated Builders and Contractors, San Diego Chapter. The outstanding field personnel for each project award was also honored recognizing Dave Hays with Straub Construction as the recipient of that award.
Creating an Oasis in the Middle of the Desert
Located in the middle of the Mojave Desert, the Marine Corps Air Ground Combat Center (MCAGCC) at Twentynine Palms sprawls across a harsh and grueling environment ― perfect conditions for training Marines in preparation for the unforgiving terrains of Iraq and Afghanistan. The Marines face scorching heat, 70-80 mile an hour winds filled with grit and sand, and an area lacking amenities for healthy distraction ― both on and off Base. Adding to the challenge is the fact that previous barracks were built long before this generation of marines were born and did not incorporate the amenities that this new generation considers typical. The completion of the Bachelor Enlisted Quarters (BEQs) and Parking Structure set new standards for housing a new generation of America's fighting men and women.
To accomplish the project goals, the SMHJV team focused on providing a college campus style environment, with a more home-like feel, intended to improve the quality of life for single Marines and reflect the professionalism of today's American Military. The campus makes a unique visual statement while blending well with existing base structures. Interiors complement the current Marine Corps initiative of supplying BEQ residents a home-type of environment with upgrades, warm colors and an apartment-like appearance as opposed to the institutional character of past Marine barracks.
Building for Excellence
The Straub/Martin-Harris Joint Venture was formed in August 2008 to leverage the combined experience of both firms in Design-Build, LEED, Value Engineering and Best Value construction delivery methods. Both companies share markets in Arizona, New Mexico, Utah, and Colorado. The Straub/Martin-Harris JV and PGAL (Project Architect) are also currently performing as the Design-Builder for the new Marine Corps, Quality of Life Facilities Package 4 (BEQ, Support Facilities and Dining Hall) at MCAGCC Twentynine Palms, CA. Straub Construction is located at 202 West College, Fallbrook, CA 92028. (760) 414-9000. http://www.straubinc.com. Martin-Harris is located at 3030 South Highland Drive, Las Vegas, NV 89109. (702) 385-5257. http://www.martinharris.com. PGAL's corporate office is located at 3131 Briarpark, Suite 200, Houston, Texas 77042. (713) 622-1444