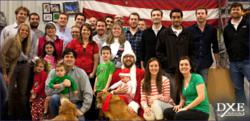 This was a labor of love and thanks.
Brentwood, TN (PRWEB) December 06, 2012
On November 20th, owner and secretary of DXE Medical Inc., Julie Spencer, organized a Stocking for Soliders event at DXE's headquarters in Brentwood, TN. DXE Medical employees and their children gathered to assemble 60 stockings to send to soldiers away from home this holiday season.
"This event brought into sharp focus the fact that many soldiers serving our country are deployed, in harm's way, or may be recovering from injuries," commented Becky Becker, accountant for DXE Medical. "Filling stockings seems like a small way for us to possibly bring a smile to a soldier's face, or a warmth to their spirit during what must be a difficult time not only for them but their families at home."
Employees purchased items that would fit in a stocking including candy, treats, decorations, hot chocolate, as well as ChapStick, magazines, crossword puzzles, notepads, pens, and paperback books. All items were gathered, sorted, and set up in an assembly line where DXE employees began filling the stockings with all the goodies, including a Christmas card signed by the entire DXE Medical team with their thanks and Christmas wishes. The stockings were sent to soldiers aboard the John C. Stennis Aircraft Carrier. "This was a labor of love and thanks," said Becker.
DXE Medical Inc. was founded in 1999 by Matt and Julie Spencer. The company has grown to service over 20,000 customers in all 50 states and 35 countries worldwide. For more information, please visit: http://www.dxemed.com/