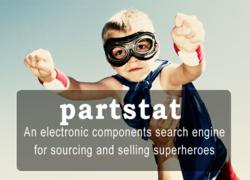 With Partstat Quotes our users will become more efficient and organized.
Oviedo, Florida (PRWEB) December 06, 2012
Partstat did it again. Partstat was the first search engine for electronic components and aerospace spares to integrate Google Earth, Skype and YouTube into the sourcing and selling process.
Now users can enter and store quotes from suppliers during the sourcing process with Partstat Quotes.
Historically, when buyers use search engines to locate products, they write quotes down on pieces of paper only to be discarded. Many times, buyers need to source and buy the same products over and over. So every time the demand arrives, the buyer has to repeat the sourcing process over again wasting valuable time and perhaps money.
Now with Partstat, users can enter quotes from suppliers as they source quick and easy.
"I like the simplicity of this feature." states Dennis Hugh, eMarketing Director at Partstat, "Just click on the Enter Quotes button in the search results and enter up to three quantity / price points along with a comment and the contact person of the supplier that provided the quote, then save."
If a user searches for a part that has previously entered quotes, an alert bar will appear so the user can view the previous quotes. Go here to see more information on Partstat Quotes http://www.partstat.com/User-Premium-Services
About Partstat: http://www.partstat.com. Partstat is an electronic component search engine that has information for over 11 million unique parts including data sheets, pricing, lead times and much more. Advertising inventory is free and so is searching. Partstat's data is updated daily, so the information is always fresh and current.