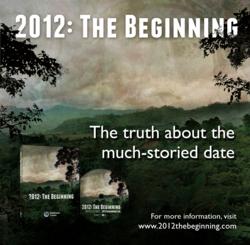 Western pop culture has popularized a myth that misrepresents the modern-day Maya. Living Maya believe in celebrating their spirituality and wisdom and sharing it with future generations.
Chicago, IL (PRWEB) December 06, 2012
Documentary film 2012: THE BEGINNING is now available on DVD and online streaming video. Through interviews with the world's leading Maya archeologists, scholars, epigraphers, astronomers, shamans, and living Maya, filmmaker Shannon Kring Buset shines a light on the truth behind the Maya doomsday myths and December 21, 2012 predictions.
Kring Buset's relentless commitment to honoring indigenous Maya wisdom, along with a dedicated production team and a stellar cast of experts, answered her burning question, "What is the truth about the Mayan Calendar and December 21, 2012?" As she and her film crew traveled through six countries, five myths were uncovered and explored.
"Western pop culture has popularized several myths that misrepresent the modern-day Maya including the Maya doomsday prediction of the end of the world on December 21, 2012," says Kring Buset. "2012: THE BEGINNING dispels these myths and shares the truth for future generations to learn from and enjoy."
Translated into seven languages, the film airs later this month on television in Sweden, France, Germany, Switzerland, Spain, Portugal, Estonia, and Finland. It is in full theatrical release in Honduras, and limited release in Poland and Ecuador. Currently, the only way for those in the U.S. to see the film is on http:DVD or streaming video.

Availability:

DVD and free companion eBook
Online Streaming Video
Film Screenings and Appearances
Media Interviews and U.S. Television/Cable Options
Tour -- The Great Return: Copan 2012, Winter Solstice in Honduras Dec 15-22, with Fire Ceremony on 12-21-2012 (open to press)
- - - - - - - - - -
About 2012: The Beginning
2012: The Beginning, an hour-long documentary film written, directed, and produced by Shannon Kring Buset for Wild Heart Vision Media, examines what the sacred Maya texts really say about the much-storied date of December 21, 2012. The world's leading Maya experts -- scientists, archeologists, scholars, epigraphers, astronomers, and shamans – and living Maya shed light on a date that has long been shrouded in mystery and intrigue. http://www.2012thebeginning.com

About Shannon Kring Buset
Shannon Kring Buset is an award-winning author of four books, executive producer and co-star of an Emmy-winning PBS reality-cooking series, and former owner of acclaimed restaurants and culinary schools. She has lived and worked alongside indigenous elders, spiritual luminaries, world leaders, and is dedicated to inspiring others to embrace a more soulful existence, and to preserving dying, living, and emerging wisdom from all four corners of the world. Kring Buset is a frequent keynote speaker at events around the world, and has been featured on CBS, NBC, ABC, PBS, FOX, Lifetime, NPR, and in more than 150 publications worldwide, including The Wall Street Journal, SmartMoney Magazine, and Redbook. She is currently completing her first novel, also about the ancient Maya. This is her first documentary film. http://www.2012thebeginning.com

About WildHeart Vision
WildHeart Vision is an integrated media company dedicated to preserving and promoting ancient, living, and emerging wisdom. Through compelling television, feature film, and special event production, WildHeart is chronicling the lives and thoughts of indigenous elders, the world's foremost spiritual leaders, and the often-overlooked keepers of everyday knowledge. http://www.wildheartvision.com