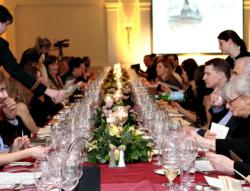 Portsmouth/New Castle NH (PRWEB) December 05, 2012
The 9th Annual Winter Wine Festival at Wentworth By the Sea is a six week tour of the world's best wines, most illustrious winemakers and deliciously paired menus. The 9th Annual Winter Wine Festival offers 16 different dinners – every Friday and Saturday night, February 1 through March 17, 2013, plus a special Valentine's Dinner on February 14 and a Beer Dinner on March 7.
In addition, the Festival presents Bubbles & Jazz Brunches featuring a different champagne each Sunday, midweek Flight Nights in Roosevelt's Lounge with live jazz and special room rates (starting at $199, promotional code WN9) to complement the Festival. Wentworth By the Sea Hotel & Spa was recently named one of the top 50 resorts in the US by Travel + Leisure Magazine and one of the top 10 hotels in the Northeast by Conde Nast Traveler -- the only hotel in New Hampshire to make the list.
Each dinner begins with a reception at 6, followed by a four-course dinner with paired wines at 7. The event website, http://www.winterwinefestival.com that features the full 6-week schedule and profiles of the participating wines, vineyards and chefs and online ticket sales. Reservations for all events may also be made by calling 603-373-6566.
The 2013 Winter Wine Festival schedule (prices do not include tax or service charge) includes:

Friday, February 1, 9th Annual Grand Tasting Reception ($69.95)
Saturday, February 2, Bogle & Rombauer in Blue Jeans "Not So Grand" Vintner's Dinner with Wentworth By the Sea Executive Chef John Welch and Robbie LeBlanc, Bogle Vinyards winemaker & band ($89.95)
Sundays, February 3, 10, 17 & 24 Heidsieck Champagne & Stonewall Kitchens Bubbles & Jazz Brunch ($44.95)
Friday, February 8, Spellbound & Medusa Winery Grand Vintner's Dinner with Geoff Whitman, co-owner and assistant winemaker of Spellbound and Medusa wineries and Simon Lampert, Executive Chef/co-owner of Four Restaurant in Portsmouth ($99.95)
Saturday, February 10 Debauchery Grand Vintner's Dinner (Fat Tuesday Celebration) with Jerry Prial of Debauchery Wine and Wentworth By the Sea chef Lee Michael ($84.95)
Thursday, February 14, Valentine's Day Aphrodisiac Champagne Vintner's Dinner with Domaine Chandon ($99.95)
Friday, February 15, Pinot & Pesce, Pine State Wines and Seaport Fish ($99.95)
Saturday, February 16, Wild Game Dinner with Atamisque Winery from Argentina and MacKinnons's Meats ($99.95)
Friday, February 22, Art & Farm Blending Dinner with Messenger Wines from Napa, featuring winemaker Rob McDonald and Adam Savage, guest chef from the Sagamore Resort ($99.95)
Saturday, February 23, "50 Mile Dinner" with Chef Matt Louis from Moxy. ($99.95)
Friday, March 1 "Sommelier Smackdown": Jess Sutton of Vinlandia USA and Sarah MacKinley of Perfecta Wines, Certified Sommeliers, face off over a four-course dinner ($99.95)
Saturday, March 2, Italian Vintner's Dinner with Vinlandia USA wines and Ryan Phillips, Executive Chef of La Bella Vita Restaurant of The Harborside Hotel & Spa, Samoset Resort, and The Sagamore Resort ($99.95)
Thursday, March 7, Allagash/Maine Beer Company Dinner with When Pigs Fly Chef Ben Hasty ($79.95)
Friday, March 8, Matarromera Spanish Wine Dinner with winemaker Carlos Moro Gonzalez and Chef Evan Hennessey of Stages at One Washington ($99.95)
Saturday, March 9, Kendall Jackson Grand Vintners Dinner with winemaker Randy Ullon and Wentworth By the Sea Executive Chef John Welch ($99.95)
Sundays, March 3rd, 10th, 17th: Domaine Chandon and Stonewall Kitchen Bubbles and Jazz Brunch ($44.95)
Friday, March 15, Wallet-Friendly, Palate-Pleasing Wine Dinner with Gallo Wines. Four course dinner and tasting notes for 15-20 wines available throughout New Hampshire. ($74.95)
Saturday, March 16, Diamond Dinner with Demeters Steakhouse ($129.95)
In addition to the Vintner's Dinners and Sunday champagne brunches, the hotel's Roosevelt's Lounge hosts special mid-week events including Riedel Glass demonstrations and flight nights, plus cooking and wine-pairing demonstrations. Flight Nights are every Wednesday and Thursday evening, 5-7 pm in Roosevelt's Lounge, with live jazz, featured flights of wine paired with complimentary hors d'oeuvres and guest wine professionals. Reservations are not necessary and flights are usually three wines for $10-16. For a complete schedule and to buy tickets for any event, visit http://www.WinterWineFestival.com or call 866-240-6313.
About Wentworth By the Sea Hotel & Spa (http://www.wentworth.com)
Wentworth By the Sea commands the island of New Castle, NH's oldest settlement, next to the Distinctive Destination® of Portsmouth, overlooking the Atlantic Ocean. The perfect destination for a romantic getaway, family vacation or group, Wentworth by the Sea, Marriott Hotel of the Year, is just an hour north of Boston with easy access from I-95 and Manchester NH or Boston airports. The 161 guestrooms & suites blend historic elegance with 21st century convenience. Each guestroom has a water view and conveys the authentic New England sense of place for which the resort has earned its sterling reputation. Meetings, conferences and events appreciate the 10,000 sq. feet of flexible space including the original Grand Ballroom (a 4,000 sq. ft, accommodating 400 people) and the Treaty Boardroom. The hotel reopened in 2003 following a $30 million restoration that added the 10,000 sq ft Spa at Wentworth. Intimate restaurants with imaginative cuisine, indoor and outdoor pools, nearby ocean beach, fitness and business centers, WiFi and an unwavering commitment to guest service make Wentworth By the Sea one of the great resort hotels of NH, New England and the world. For information and reservations, http://www.wentworth.com , 603-422-7322.