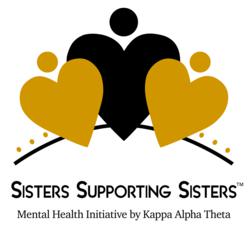 Only 20 percent of college students who have suffered depression are likely to turn to a school counselor for help.
Indianapolis, Ind. (PRWEB) December 07, 2012
Sisters Supporting Sisters, Kappa Alpha Theta's mental health initiative, received the Excellence in Educational Programming Award from the Association of Fraternity/Sorority Advisors (AFA). The award recognizes a new and innovative program developed by a fraternity organization for its undergraduate or alumnae members.
According to a 2004 American College Health Association study, nearly 45 percent of college students have felt so depressed they found it difficult to function, but only 20 percent were likely to turn to a school counselor for help. Through partnerships Kappa Alpha Theta has developed with mental health professionals and organizations, Sisters Supporting Sisters is the first Greek initiative dedicated to promoting all aspects of mental health and wellness.
The program is designed to increase dialogue about and support for all aspects of mental health. Sisters Supporting Sisters creates a safe environment for members to discuss mental health issues, helps members recognize signs of mental health challenges, and supports members facing mental health challenges and disorders.
Kappa Alpha Theta, the first Greek-letter Fraternity known among women, has a reputation for innovation. Their alcohol-awareness program was honored by AFA in 1995, and their first-of-its-kind fire sprinkler initiative was recognized in 2000 by the National Fire Protection Association (NFPA).
###
Kappa Alpha Theta, founded in 1870 at DePauw University (then Asbury College) in Greencastle, Ind., is the first Greek-letter fraternity for women. Fraternity headquarters, located in Indianapolis, supports 130 college chapters and 197 alumnae groups across the US and Canada. Membership totals more than 215,000.
AFA, headquartered in Ft .Collins, Colo., enhances the ability of college and university staff members to foster impactful fraternity/sorority experiences.