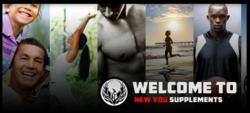 Los Angeles, CA (PRWEB) December 05, 2012
New You Supplements, an emerging leader in the health and fitness supplements industry, today announced the launch of their flagship online storefront, NewYouSupplements.com. The company is a major provider of discount supplements for fitness, health, nutrition, weight loss, bodybuilding, sports, and more. The company carries several thousand products, from whey protein to multivitamins to energy drinks.
New You operates through a membership model that allows registered visitors to purchase supplements "at cost" or at close to wholesale prices, similar to major club retailers like Costco. This approach to reduced pricing through membership lets New You members save money while purchasing the same high-quality, branded supplements and vitamins available at other stores.
In addition to selling products individually, New You offers a variety of supplement bundles designed to meet specific goals, such as fat loss, weight gain, anti-aging, muscle growth, and digestive health. These bundles are intended to simplify the process of selecting supplements and also help to provide customers with valuable education about health and fitness.
Visitors to the site who elect not to sign up for a New You membership are still able to purchase products at a substantial discount over standard retail prices. New You's membership model and emphasis on bundling related products allow the company to provide supplements at reduced prices even to non-members. Membership unlocks additional discounts.
New You takes a proactive approach to community involvement and has partnered with several non-profit organizations, including The National MS Society, Adrian Peterson's All Day Foundation, and The V. Foundation for Cancer Research. A portion of all membership fees are donated to these and other causes.
The All Day Foundation raises awareness and funds for programs that inspire hope and build a better future for at-risk children by developing programs that address sportsmanship, leadership, education, enrichment, and hunger among youth. The V Foundation for Cancer Research was founded by former basketball coach and ESPN commentator Jim Valvano and funds research projects to develop a cure for cancer. ESPN is currently hosting Jimmy V Week in honor of Jimmy V and his foundation's ongoing fight to end cancer.
New You's mission is to change lives for the better, and it accomplishes this mission by promoting health, exercise, and education, and by supporting important non-profits and causes throughout the nation. To learn more about New You Supplements, visit NewYouSupplements.com.