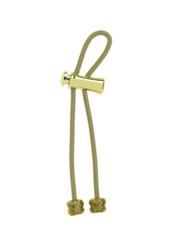 New York, NY (PRWEB) December 10, 2012
Pulleez International announced today it will be selling two of their most popular styles on amazon.com in time for Christmas shopping. The two styles, gold knot and silver knot, are the two top-sellers with fashionistas who want to add a touch of glamour to a simple ponytail.
Pulleez ponytail holders were created by a former fashion show producer who set out to craft a comfortable hair accessory that wouldn't snag hair as traditional elastics do. They were launched at NY Fashion Week last year and are a top seller at select retailers, spas and beauty salons nationwide.
Pulleez are secured by sliding hair through the elastic once. The wearer then squeezes the Pulleez while pulling the elastic to a desired tightness. There is no need to wrap the elastic multiple times as with conventional elastics. To release, simply squeeze again to open and slide it out. The patented design completely eliminates hair snagging.
Pulleez International Inc. is based in New York. In addition to amazon.com, Pulleez are sold at Henri Bendel NY and select retailers nationwide. Pulleez are also available online at http://www.pulleez.com and http://www.folica.com. Retail Prices range from $14 to $24. Retail inquiries please contact info(at)pulleez(dot)com.