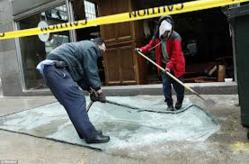 When performing work in disaster-stricken areas, employers cannot be too cautious.
Newport Beach, CA (PRWEB) December 05, 2012
The Occupational Safety and Health Administration (OSHA) is looking into the lack of proper safety gear for Hurricane Sandy cleanup workers. According to a Dec. 3 CBS news report, the Teamsters Local 237 union has raised concerns over a lack of proper tools and protective gear for workers and has refused to do the cleanup without the proper gear.
The union's president told CBS that employers should learn from the lessons of Sept. 11 when a number of workers involved in cleanup operations allegedly suffered from serious and long-term health complications due to toxic exposure. Residents who live in areas affected by Hurricane Sandy told CBS that they have been seeing workers in regular work clothes, without any protective gear. However, some workers said they have been provided with gear such as gloves and masks, the report states.
OSHA is urging workers and members of the public engaged in cleanup and recovery activities to be well aware of the hazards they might encounter and the necessary steps they should take to protect themselves. Common hazards after any disaster, according to OSHA's website dedicated to this topic, include downed power lines, carbon monoxide and electrical hazards from portable generators, falling objects such as trees or tree branches, trench collapses, burn injuries and traffic accidents. Workers also face danger from toxic exposure and contaminated water during flood cleanup, OSHA's website states.
Employers should ensure that their workers have a reasonably safe environment to do the job, said John Bisnar, founder of the Bisnar | Chase personal injury law firm. "All work areas should be thoroughly evaluated for hazards before the job is begun including securing power lines, using fall protection devices, monitoring traffic flow and ensuring ladder safety."
When performing work in disaster-stricken areas, employers cannot be too cautious, Bisnar says. "It is definitely better to be safe than sorry. Workers who have been injured on the job should get prompt medical attention and obtain information right away about filing for benefits and protecting their legal rights."
About Bisnar | Chase
The California job injury lawyers at Bisnar | Chase represent families or victims of job-related injuries. The firm has been featured on a number of popular media outlets including Newsweek, Fox, NBC, and ABC and is known for its passionate pursuit of results for their clients. Since 1978, Bisnar | Chase has recovered millions of dollars for victims of serious personal injuries and their families.
For more information, please call 800-561-4887 or visit http://www.bestattorney.com for a free consultation.
Sources:
http://newyork.cbslocal.com/2012/12/03/osha-investigating-lack-of-protective-gear-for-some-sandy-clean-up-workers/