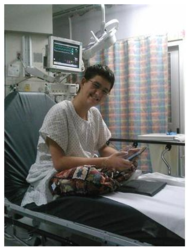 Jason's Hope was started by his mother Teresa. She wants to share Jason's story with the world so that he can touch as many lives as possible and maybe through his example
(PRWEB) December 04, 2012
This week is Jason's Hope last week of fundraising for a young man that was diagnosed with rare form of muscular dystrophy called Emery Dreifuss. Emery–Dreifuss muscular dystrophy is a condition that chiefly affects muscles used for movement (skeletal muscles) and heart (cardiac) muscle.
An anonymous email was sent to Teresa Stokes last Manday afternoon explaining the details. The letter went on to explain that not only was the "Anonymous Donor" donating $500 each day until this Friday, but also a larger sum come this Saturday. The letter also stated that any additional funds beyond the funds "Anonymous Donor" funds up to $5,000 will also be matched.
Jason's Hope was started by his mother Teresa. She wants to share Jason's story with the world so that he can touch as many lives as possible and maybe through his example… someone could… learn to be a better person by not allowing obstacles to limit them, hinder them or stop them from living a life filled with Love, Happiness, Strength, Courage, Hope and of course always wearing a smile.
To learn more about Jason's Hope, please click here.