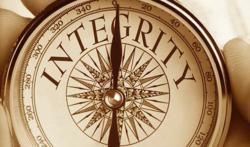 Each ethical battle strengthens our muscles.
Anchorage, Alaska (PRWEB) December 05, 2012
Lynne Curry, Ph.D.(CEO of The Growth Company) has over 30 years of management and consultant experience. This past month there have been many stories in the news regarding upper management making poor choices—some people may arguably believe these choices were because of an attempt to continue earning profit. Today, Dr. Curry reaches out to her clients to help them tackle this battle.
What leads individuals who know better to push forward and do the wrong thing -- when people would think they would know better? And what does it mean to others?
Dr. Curry says, "They forget the worst can happen."
In a "production is king" environment, workers can rationalize away danger, forgetting that natural laws and safety risks outgun their bosses and profits. Dr. Curry advises, "Don't be like the teenager afraid to get out of the car when your drunken buddy takes the wheel."
Additionally, Dr. Curry mentions that they think if it happens, the company will be punished -- not them.
"Wrong," says Dr. Curry. "As the three BP managers found out, company attorneys protect the company, even when it means throwing those who thought they acted in the company's best interests to the wolves. And why not? Those individuals' choices directly harmed those who died or suffered irrevocable losses. When your actions kill, the company doesn't go to prison, you do."
It was only a small transgression.
According to Dr. Curry, "If we don't act right in small decisions, what happens when we face a harder test or have to give up a lot to go against a company culture? Each ethical battle strengthens our muscles. Even when the wrong thing seems like no big deal, it is. Small decisions added in with large ones equal integrity."
Individual honesty matters, and there's no honest half-truth.
Dr. Curry goes on to say, "Each of us needs to act with integrity. Do you want to live in a twilight ethical world in which things are 'only a little wrong?' Avoid ethical debt by doing the right thing every day. After all, if you tell half-truths long enough, you con your own conscience."
What should we ask ourselves?
Further, Dr. Curry mentions, "In any situation, we need to ask, 'What is it right and good?' 'Would I be OK with someone else doing this?' 'If I do this, what will happen to my respect for myself?' 'How does this decision align with the values I say I uphold, values such as honor, safety, respect and integrity?'"
Finally, Dr. Curry says, "Somehow individual employees and managers at BP and a New Mexico peanut butter factory forgot that we may be called to account for our own individual decisions and actions. Each of us makes the world."
Dr. Lynne Curry is a management/employee trainer and owner of the consulting firm The Growth Company Inc. Send your questions to her at lynne@thegrowthcompany.com. Follow Lynne on Twitter: @lynnecurry10.
© Lynne Curry, November 2012, http://www.thegrowthcompany.com