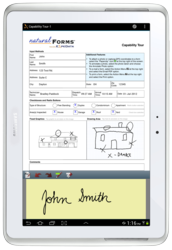 We have achieved our return on investment in three months of using naturalForms from administrative and operational cost savings and improved tech productivity alone.
MIAMISBURG, OHIO AND TOLEDO, OHIO (PRWEB) December 05, 2012
Suite Solutions (SS) has equipped its field technicians with the naturalForms data capture solution from ExpeData to eliminate paperwork, improve processing times, and delight customers. With naturalForms, sales and service forms are now completed electronically on Samsung Galaxy® tablets with information immediately available to the customer and the SS home office - reducing cycle times by up to 97%.
Headquartered in Toledo, Ohio, Suite Solutions is a provider of high-speed internet, cable TV, digital satellite TV, and digital phone services to residential apartment and condominium communities. High quality products and high levels of customer care are the company's highest priority.
ExpeData converted SS' paper subscriber agreement and service forms to digital versions for use on the naturalForms app for Android tablets. The forms maintain the look and feel of the paper forms but contain "smart form" functions such as drop-down option lists, mandatory fields, and validation rules that enable easy, accurate and complete data capture.
Technicians complete the forms using natural input methods such as handwriting. The information collected is verified for accuracy and validated at the point of entry. Digital copies are available immediately and sent wirelessly to the SS office and emailed to customers. Technicians can even print a copy of the form directly from naturalForms if requested by the customer. At properties where wireless and Wi-Fi availability are sometimes unreliable, technicians can still collect data when offline and automatically send the forms when connections are restored.
Since deploying naturalForms, Suite Solutions has been able to streamline its data capture and processing workflows, resulting in the following improvements:
Improved Productivity, Reduced Cycle Time
SS technicians previously gathered information manually using pens and pre-printed paper forms. This process was costly and inefficient. Orders were sometimes lost and paperwork was incomplete. This led to cycle time delays. Since deploying the automated solution, the time to process subscriber agreements has been reduced from up to a month with paper forms to same day with naturalForms.
Better Data Quality and Operational Control
With mandatory fields and business rule validation built into the forms, technicians must collect required data before they can submit forms for processing. Drop-down option lists make collecting the required information efficient and ensure accuracy for complex fields such as equipment types. Customer signatures are designated as a mandatory field and contracts cannot be processed without them.
Ease of Deployment and Rapid User Acceptance
Because naturalForms incorporated the form factor of SS' original paper forms, technicians did not have to learn a new app or system. The familiar forms essentially became the app interface. Technicians quickly embraced this new technology and have found that they can enter information faster than with paper forms by using the input method most comfortable for them - stylus or finger handwriting, keypad, even an external Bluetooth keyboard if preferred.
"We have achieved our return on investment in three months of using naturalForms from administrative and operational cost savings and improved tech productivity alone," said Steve Ransom, Operations Manager, Suite Solutions. "We have also enhanced our customer experience which you cannot put a price on. Clients are delighted when we can immediately email the agreement they just signed and we are delighted to get rid of paperwork."
"Service organizations such as Suite Solutions are embracing naturalForms as an easy and efficient, not to mention cost effective, way to automate data capture in the field," said Doug Patterson, Vice President Business Development, ExpeData. "Because the app leverages a familiar form interface and natural input methods, training is minimal and user acceptance is high, which enables a rapid transition from paper and immediate business benefits."
To learn more about naturalForms and sign up for a risk free trial, visit https://naturalformsapp.com.
About Suite Solutions
At Suite Solutions, we are dedicated exclusively to serving multifamily residential communities. We deliver high-speed Internet, Cable TV, Digital Satellite TV, and Digital Phone services configured to meet the unique requirements of each community we serve. High quality products and high levels of customer care are our highest priority. To learn more, visit http://www.suitesolutions.tv.
About ExpeData®
ExpeData, an innovative software company and a global leader in natural input technologies, provides an end-to-end mobile data capture platform that automates the collection of natural input (such as handwriting, photos, notes, drawings, and voice) at the point of entry. Information captured with tablets or other mobile devices is immediately converted to digital data and seamlessly integrated to backend systems. Straight-through processing eliminates cycle time delays, resulting in unsurpassed workflow optimization and significant cost savings. ExpeData's solutions are used across the globe, delivering value in multiple industries. To learn more, visit http://www.expedata.net.
ExpeData, and marks shown with an ® are owned by ExpeData or their respective owners, and registered with the U.S. Patent and Trademark Office. Other trademarks, such as product and service names, found on ExpeData web sites are owned by ExpeData or by third parties. Android is a trademark of Google Inc. Samsung, Galaxy, Galaxy Note, Galaxy S are all trademarks of Samsung Electronics Co., Ltd.