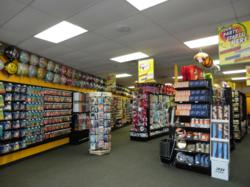 Cordova, TN (PRWEB) December 08, 2012
Party Hut is a fun and affordable new party supply store that carries a huge selection of unique party merchandise along with all of the party essentials needed for any celebration. Party Hut was opened by local entrepreneur Kent McGee with the help of their business development firm, Discount Party Store Services. It is located at 1204 Houston Levee Rd Unit 111, Cordova, TN 38018. With a huge selection of incredibly affordable party supplies, Party Hut is expected to bring even more business to the local area as well as offer an affordable place to shop for the community.
Party Hut sells all of the party essential like napkins, balloons and balloon bouquets, cups, plates, greeting cards, seasonal party items for Halloween, Christmas, New Year, graduation, and other holidays and events, a range of themed items from classical to pop culture, sports-themed party merchandise, unique novelty party items, and much more. All of this is now available under one roof which, according to Kent McGee, will eliminate the need for those in the community to visit several different locations while also offering a range of items that simply were not available anywhere in the area before.
McGee contacted Discount Party Store Developers to help develop the business. Discount Party Store Developers is the largest developer of independent party stores in the world and together with its parent company, DRSS, they have opened nearly 3,000 stores. Discount Party Store Developers assists entrepreneurs in securing financing, locating a site, negotiating a lease, business and operations training, store build out, access to a network of suppliers and huge savings on those supplies, marketing and advertising support, and support for the life of the business. This is available for one low starting price and there are no franchise fees. When asked about the process McGee stated he was very pleased with the whole thing.
Discount Retail Store Services is an independent business development company that offers turn-key business start-up opportunities across six proven business models including Dollar Stores, Clothing Stores, Mail Box Stores, Teen Stores, party Stores, and Fitness Centers. DRSS is not a franchise operation and owners have 100% control over their store and pay no franchise fees. You can get upcoming news about DRSS on their Facebook Page.