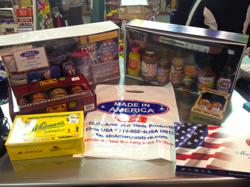 (PRWEB) December 05, 2012
The Made In America Store offers a solution for those who are tough to buy for this holiday shopping season. Gift boxes and samplers from the all US made products store give a small taste of what is offered at the Made In America Store.
The Made In America Store sells 100% US manufactured products from all over the Unites States. Visit the Made In America Store's e-commerce site to shop online!
Brooks House of BBQ, Whitman's, Weck & Wing Sauce, Jelly Belly, Best Of Buffalo and the Made In America Store all participate in offering either a sampler or gift boxes.
Brook's House of BBQ bring a full line of dipping sauces, marinades and rubs to the all American made products store. The Gift box from Brook's offers a 3oz. Grillin' Rub, a 16oz. Chicken Cooking & Dipping Sauce, a 16oz. Spiedie Marinade and a 16oz. Brook's Original BBQ Sauce.
Shop the full line of Brook's House of BBQ Sauces at the Made In America Store!
One of the bestselling gift boxes at the Made In America Store is the Best of Buffalo box. The Best of Buffalo Box brings some of the best flavors Western New York has to offer including Weber's Horseradish Mustard, Chef's Plain Pasta Sauce, Uncle Bob's Barbecue Sauce & Marinade, Fortuna's Italian Dressing & Marinade, The Original Anchor Bar Medium Chicken Wing Sauce, La Nova BBQ Sauce, Crystal Beach Loganberry, Battistoni Maria Pepperoni and Buffalo Wing Nuts.
The Best of Buffalo box is 100% American made, brought to you from Buffalo, New York.
The Made In America Store carries their own gift box with a handful of products right from their store in Elma, New York. The Best of the Made In America Store box includes a Porcelain Coffee Mug, a Fishing Lure, Travel Mug, a Puzzle, Coasters, Baseball Cap, and a Collectible Wooden Toy Train which is all Made In America Store themed. The gift box also includes a bag of Claey's famous Hard Candies.
Jelly Belly, the iconic jelly bean manufacturer, brings a 40 flavor sampler box to the Made in America Store. The 40 flavors include Island Punch, Pomegranate, Buttered Popcorn, Orange Sherbet, Chocolate Pudding, Strawberry Daiquiri, French Vanilla, Green Apple, Caramel Corn, Raspberry, Kiwi, Berry Blue, Bubble Gum, Red Apple, Sunkist Lemon, Chili Mango, Crushed Pineapple, Strawberry Cheesecake, Blueberry, Lemon Lime, Coconut, Top Banana, Licorice, A&W Cream Soda, Mixed Berry Smoothie, Very Cherry, Juicy Pear, A&W Root Beer, Sunkist Orange, Dr. Pepper, Peach, Tutti-Fruitti, Margarita, Sizzling Cinnamon, Sunkist Tangerine, Cappuccino, Toasted Marshmallow, Cotton Candy, Watermelon and Pina Colada!
All American made gifts found in one location, the Made In America Store.com!
The Made In America Store also carries the 'Weck & Sauce" gift box which includes Buffalo Wing Sauce and A Beef on Weck shaker filled with Salt and Caraway Seeds. Whitman's Assorted Chocolate Sampler also makes a great gift idea.
The Made In America Store is the only brick and mortar store that sells 100% made in the United States products from over 350 vendors. Consumers can visit http://www.MadeInAmericaStore.com or call 716-652-4872 to get more information or shop our catalog of over 3,500 items. Both Active Duty Military Personnel and U.S. Military Veterans receive a 10% discount every day. Followers of the "Made In America" movement can keep updated with the Made In America Store through Facebook, Twitter, Google+, Pinterest, FourSquare and even their own blog on Wordpress!