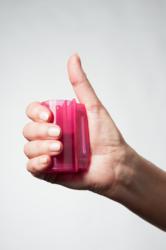 Always available - my friendly little fan support during my hot flashes – is pretty cool," says Angie, age 52 of Ottawa.
Ottawa, ON, Canada (PRWEB) December 06, 2012
BlowMeCool Inc is a year old Ottawa based company that manufactures and distributes the BlowMeCool device. The company recognized women want a more subtle, discreet way of cooling themselves during hot flashes. "I saw too many women grab for anything available and start fanning away at the air in an effort to cool their face" says Brian Burge the founder of BlowMeCool. The industry has generated a wide range of mini-fans, but the BlowMeCool small, light weight, quiet, no propeller design is unique.
It's important to have a little style during inconvenient hot flashes - women don't want to broadcast the fact that they are in that certain time of life. The BlowMeCool mini-fan is so discreet it will not even be noticed when your in the office, restaurant, or just out shopping. When you are the wrong kind of hot - get relief from hot flashes with a BlowMeCool.
The durable, high quality mini-fan's lithium-ion battery is recharged with a standard micro-USB connection. An LED light flashes to indicate the need to recharge, and it also serves as a mini-flashlight for those dark restaurants where a little extra light is desirable.
BlowMeCool is available on-line and through selected retailers (see retail partners at: http://www.blowmecool.com). Find instant relief from hot flashes with the BlowMeCool USB mini fan!
"It's so quiet nobody even knows when I'm blowing myself cool," says Sue of Kingston, Ontario.