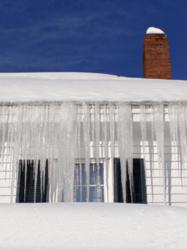 Properly carrying out some basic winterization techniques can save you a lot in the long and the short run.
Philadelphia, PA (PRWEB) December 06, 2012
With average temperatures during the winter months, PA roofing contractor Mark Katona Roofing sees a lot of calls just before and just after the season and even some during. A lot of homeowners take a set and forget mentality to their home. They have it built or they have repairs done and they fail to realize the importance of regularly scheduled maintenance or do not know what to look for before a problem gets out of hand. Working in the community, these mainline roofers help homeowners keep their houses safe, dry, and warm. During these cold months, the roofing contractor based out of Bala Cynwyd recommends taking a few precautionary steps on the next—and one of the last of the year's—warm day in an effort to help protect roofing and homes from the harsh weather ahead.
Prepping for the winter is known as winterization. Those in the Midwest and New England, certainly know what it is all about. The cost of keeping homes warm during these next few months can be painful. Needing any sort of home-based repairs while the sleet and snow is coming down is not any fun either. Properly carrying out some basic winterization techniques can save you a lot in the long and the short run.
Check Those Gutters
This is one of the easiest tasks when it comes to winterizing a roof, and it is probably the one most everyone is familiar with. The gutters that run along the edge of a roof and down the side can easily become clogged with twigs, seeds, and leaves through the changing seasons. Homeowners will want to be sure to clean out the gutters. To do this, use a hose and make sure everything flows like it should. Pay attention to see if there are any leaks or cracks. Any disruption in the water flow through the gutters is going to cause a problem. This will cause water to accumulate, freeze, and further damage the gutters. This then runs the chance of the gutters pulling away from the roof and house, possibly exposing untreated areas to the elements.
Make Sure the Attic is Ventilated Properly
With attics, especially those that have things such as a heating unit or water heater, this is even more important. As the cold air circulates around the home, it can build up inside the attic, especially as ice and snow piles up on top of the roof. Without proper ventilation, that cold air is going to become a problem, dramatically increasing heating costs. Any pipes running in that same area can become frozen. Without proper air circulation, heaters and water heaters having trouble such as pilot lights going out otherwise and failing to perform properly.
Clean off the Roof
This one should go without saying. Unfortunately, with so many years in roofing in PA, Mark Katona Roofing knows that it is important to remind people of this often overlooked detail. It is necessary to clean the debris off a roof. It can be accumulated pollen, leaves, twigs, seedlings, and other such items that got tossed around during the warmer months. One of the easiest ways, especially for shingled roofs, is to take a hose to the top of the roof and then spray water at a downward angle. These foreign objects on the roof can cause water to travel in unintended paths, which can lead to moisture and ice building up in unprotected areas such as under the shingles. During cleaning, the roof can and should be inspected look for missing, damaged, or discolored shingles, which need to be replaced as quickly as possible. These are the outer protection of the roof and very important to keep maintained. If shingles are not properly maintained, the rest of the roof is not going to last anywhere near as long as it should.
Inspect & Replace/Repair Flashing
Another item homeowners should look at is the roof flashing. This is usually a thin aluminum strip just along the edges of the roof. It should be flat against the roof and structure. It should not be warped, bent, or otherwise misshapen or damaged. If it is, it will need replaced. Failure to do so is going to allow water and ice into the interior portions of your roof.
About Mark Katona Roofing: Mark Katona Roofing is a second generation roofing contractor in mainline PA based out of Philadelphia, PA providing roofing services for residential and commercial customers including replacement, repair, and maintenance on shingle, shake, tile, asphalt, flat, tin, and slate roofing. Their business survives on three core principles: top quality craftsmanship, honesty and integrity, and a service that is second to none.
Marketing and distribution by MyLocalLeads.