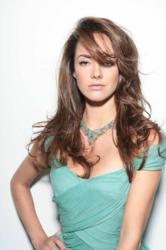 "The skills I gained through formal ballet training really lent to the role I played in this film"
LOS ANGELES, CA (PRWEB) December 05, 2012
The action-thriller "White Swan" premiered Hollywood-style during a private screening November 15 at the Warner Bros. Studio, Burbank. The film was screened to an eager audience awaiting the highly-anticipated co-directorial debut of Sofya Skya, a notable international actress and ballerina. The film, which also stars Christian Slater, Cole Hauser and Angus Macfadyen, has been acquired by Grindstone Entertainment for the U.S. and Canada for all media and will be distributed by Lionsgate Home Entertainment in the U.S. in 2013. "White Swan" centers around Maya (Skya), a Russian ballerina who is being hunted by the Russian mafia after they kill her husband played by Slater.
Skya, who is a professionally-trained ballerina, allowed her dance skills to shine as she performed all of her stunts in the film. Skya is also co-director of the film, which recently won the 2012 Movieville award for Best Picture and the 2012 Movieville award for Best Actress.
The film, which was produced by Robert Crombie and Naz Tilachev, was an excellent fit for Skya considering her background, Skya said."I couldn't ask for a better opportunity than to be given a role where my years of training as a ballerina are such an important focus of the movie. The skills I gained through formal ballet training really lent to the role I played in this film," Syka said. "I'm very honored and grateful to have received this experience of a lifetime. I hope those who see the movie enjoy watching it as much as I enjoyed making it," she added.
Born August 12, 1987 in St. Petersburg, Russia, Skya received training as a ballerina at Vaganova Ballet Academy before moving to Hollywood in 2007 to become an actress. Her film credits include "Limelight", "The Courageous Heart of Irena Sandler", "The Tomb", "Shadows in Paradise" and "Klub Schastya". "I'm always open to challenging, new opportunities. My film career is still young, so I look forward to new and exciting roles that come my way," she said.
For Media and Interviews, please contact:
Yvette Morales
YM & Associates
PR | Marketing | Branding | Business Development
California | New York
949.244.9769 | 310.499.0906 Fax
YMoralesY(at)YM-PR(dot)com
YM-PR.com
Twitter: @YMTheBevHillsPR