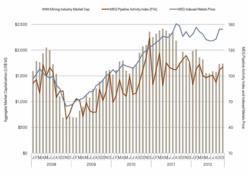 Halifax, Nova Scotia (PRWEB) December 05, 2012
SNL Metals Economics Group's (MEG) Pipeline Activity Index (PAI) increased in September and again in October to reach its highest level since March 2012. The number of initial resource announcements in September-October was the highest two-month total since at least 2008, and drilling activity has now strengthened for three consecutive months. Financings also showed slight signs of improvement in October, including a number of large underwritten equity raisings.
Although these are signs of improvement, we caution against over optimism since the September quarter is typically the peak season for drill reporting and junior company financings. As commodity markets and the global economy remain very uncertain in the near term, the junior exploration sector will need more than a few decent financing months to replenish cash for 2013.
The remainder of 2012 and early 2013 could be telling. Along with the PAI, the industry's aggregate market cap rebounded slightly after a very poor four months. The aggregate market cap finished October at $1.74 trillion, which is the highest since April but still well below the $2 trillion threshold.
The 109 significant drill results reported in October is the highest one-month total to date in 2012; although still well below the highs of late 2011, the number of results has now strengthened for three consecutive months. An increase was expected, since the September quarter is generally the peak reporting season for juniors and intermediates; however, it is encouraging given the financing drought prevailing through most of 2012 to date. North America and Latin America led the way, accounting for the largest share of both gold and base metals results in September-October. Africa's share declined, likely due to a lull caused by the rainy season in West Africa.
Financings improved slightly in October and appear to be on a similar track for November, which will likely help re-energize some cash-strapped juniors. While there is typically a drop in drilling activity as the holiday season approaches, the scale of the decline may foreshadow what to expect in 2013.
The SNL MEG Pipeline Activity Index (PAI) measures the level and direction of overall activity in the supply pipeline, incorporating significant drill results, initial resource announcements, project development milestones, and significant financings into a single comparable index. The PAI is featured in the SNL MEG Industry Monitor—a series of comprehensive graphs and charts with related commentary, illustrating SNL MEG's analysis of monthly changes and emerging trends in the base and precious metals pipelines. Using information only available from SNL MEG through MineSearch, Exploration Activity Services, and Acquisitions Services, the Industry Monitor tracks developments based on the past 26 months' announcements of significant drill results, initial resources, project development milestones, significant financings, and acquisitions.
For more information and to purchase the complete SNL MEG Industry Monitor, visit SNL Metals Economics Group's web site at http://www.snlmetalseconomics.com.
About SNL Metals Economics Group
SNL Metals Economics Group (MEG) is the most trusted source of global mining information and analysis. We draw on three decades of comprehensive information and analysis, with an unsurpassed level of experience and historical data. To help our clients reach better decisions more quickly, we supply raw data and sophisticated analysis based on unbiased research and reporting. From worldwide exploration, development, and production to strategic planning and acquisitions activity—our databases and studies help you make confident decisions and, ultimately, improve results.
SNL Financial
One SNL Plaza
Charlottesville, VA
22902
434.977.1600
Other office locations:
New York. London. Hong Kong.
Visit SNL in the Media to learn more about resources available to press.
###