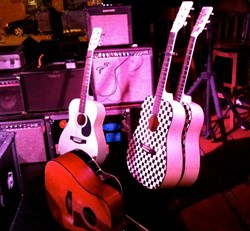 One of the Finest American Guitar players on the road today....
Jim Reed,
Savannah Connect
Richmond, Virginia (PRWEB) December 18, 2012
The Science Museum of Virginia guitar exhibit running through December titled: GUITAR: The Instrument That Rocked The World, will include a special performance by Eric Sommer. The performance will be at The Science Museum of Virginia in Richmond, Virginia on December 26 and will take place from 1pm - 3pm.
A guitar demonstration by Eric Sommer may be of interest to young players and seasoned professionals alike. Only a handful of guitar players are adept at all aspects of the guitar – slide, fingerstyle, open-tunings, neck bends, flat picking – and do it with authority.
Eric Sommer is one of those guitar players who can do it all, and this public demonstration December 26th perfectly complements the exhibit Science Museum of Virginia show this Christmas Season.
On December 26, from 1pm – 3pm, Eric Sommer and 7-8 guitars will give a guitar demonstration as part of the Museums' exhibit: GUITAR: The Instrument That Rocked The World. Mr. Sommer will play a wide range of styles from Steve Howe (YES), John Hammond, Jr. and BeBop great Charlie Christian . Mr. Sommer will play all the guitars he brings for the performance, and will take questions, promote his new record Rainy Day Karma, play the tunes he is know for like "Thinking of You" and "I Caught a Cab", and share tales from the road: Mr. Sommer does around 270 shows a year and can speak from experience.
Eric Sommer has played with John Mayall, Leon Redbone, Jerry Douglas, Sara Watkins, Little Feat, Nick Lowe bands Wreckless Eric and Bram Tschaikovsky, Dead Kennedys, Buddy Guy, Randy Hanson, David Bromberg... to name but a few.
This performance will be of interest to young guitar players and seasoned pros alike. Mr. Sommer is known for attention to fans, for answering any and every question and taking time to explain technique, tunings and chord and soundscape philosophies. Mr Sommer has rarely left any show early, and will stay to make friends, sign photos, CD's, posters, t-shirts and occasional guitars and celebrate this wonderful guitar exhibit.
It's said that the biggest stars are generally the nicest. If true, there isn't a room big enough or a light bright enough for this star. Welcome to Richmond, Eric Sommer.
For Music Samples and additional schedules please visit CDBaby or Eric Sommer online or contact him at eric(at)ericsommer(dot)com or call 202-255-1995. Additionally, you find Eric Sommer on Facebook, too.
Eric Sommer is represented by Clyde is Thinking, and PR programs are managed thru MTGNY; Clyde is Thinking is a small boutique management agency located in London with offices around the United States.