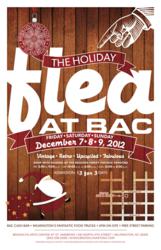 We're excited for the opportunity to showcase our instruments and kits locally at a really fun, holiday show and a great venue like the Brooklyn Arts Center
Wilmington, NC (PRWEB) December 05, 2012
Papa's Boxes, specialist manufacturer of homemade guitars and ukulele kits, is excited to offer their stock of do-it-yourself musical instruments for an original and exciting gift this holiday season. As a vendor at the upcoming Holiday Flea in the Brooklyn Arts Center, Dec. 7th – 9th, Papa is getting readying to unveil new, fully functional cigar box products at their vintage product showcase (including amps and build your own guitar kits) made with upcycled materials for a 100% usable and stylistic gift.
Utilizing repurposed cigar boxes and handcrafted fret boards, Papas Boxes are able to build a fully functional and fantastic sounding acoustic homemade guitars and ukuleles. Featuring build your own ukulele kits, as well as electric pickups and cigar box amps, Papa's do-it-yourself (DIY) musical instruments are the perfect gift for any avid music lover or collector. Kits come with instructions and everything you need to build your own guitar, ukulele, or banjo. Also offering already assembled handmade cigar box ukuleles, which are masterfully made for the perfect sound.
As the perfect product that exemplifies the Holiday Flea's ideal of vintage style and repurposed materials, Papa's Boxes is looking forward to sharing their merchandise and is proud of their first year as a vendor.
"We're excited for the opportunity to showcase our instruments and kits locally at a really fun, holiday show and a great venue like the Brooklyn Arts Center," says Erika Schmitt, manager of Papas Boxes.
For a special product that is as practical as it is unique, Papa's Boxes is especially proud to feature their cigar box amps and speakers at the Holiday Flea showcase. Cigar box amps are lightweight, travel-friendly, and effectively work with cigar box ukuleles for a clear and professional sound. For increased versatility, cigar box amps can plug into your iPhone or other Mp3 playing devices for a beautiful sound and a distinctive look. Cigar box amps are priced at $59 for the holiday season, $10 off their regular price year round.
The Holiday Flea at the Brooklyn Arts Center is beginning its second year as the premiere holiday shopping event for vintage and upcycled crafts. Open from 3-9 p.m. on Friday, 10 a.m. to 5 p.m. on Saturday, and noon to 5 p.m. on Sunday, the Holiday Flea features abundant free parking and sits directly on a the downtown trolley line, connecting to public transportation across Wilmington, NC.
The Holiday Flea weekend of vintage shopping will showcase the hard work of many truly talented vendors (such as Papas Boxes) and include a wide array of crafts and products, just in time to put an original and exciting gift on your Christmas shopping list. Cash liquid bar and refreshments will be served at the BAC, and Wilmington's best food trucks will be parked along the venue to offer an assortment of food options.
For more information on the Papas Boxes showcase at the Holiday Flea, or to inquire about finding a build your own ukulele kit of your own, visit Papa's website or contact:
Papa's Boxes
Phone: 910-742-0269
erika(at)papasboxes(dot)com
For Information on the Holiday Flea:
Brooklyn Arts Center
516 North 4th Street
Wilmington, NC 28401
Friday, Dec. 7th: 3-9pm
Saturday, Dec. 8th: 10am to 5pm
Sunday, Dec. 9th: Noon to 5pm