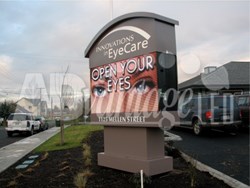 "Dental Offices, Clinics and Hospitals are now turning to the powerful advertising medium of medical LED signs in order to communicate with their local community." Richard James, ADvantage LED Signs
Houston, TX (PRWEB) December 10, 2012
ADvantage LED Signs spokesperson Richard James announced the completion of a turn-key sign installation for Innovations in Eye Care out of Centralia, WA. The sign, a 4' x 7'-11" 12.5mm iPixel 96x192 iMatrix Full Color LED Display, is one way doctor's offices are increasing their visibility in the marketplace attracting new patients in a competitive marketplace.
Richard James of ADvantage LED explains. "The LED sign has increased business for this office tremendously. Doctors' offices nationwide are learning of the great benefit that a Full Color LED Sign can bring to their brick and mortar location."
Innovations in Eye Care spokesperson Chad Taylor agrees, saying, "The sign has everyone talking as they come in for office visits or when they call in for more information. We felt as an eye care facility, it only made sense to have a highly visible sign to convey information about our office. We use it to display specials, office hours and sometimes just time and temperature."
Marketing takes many forms and for doctors medical LED signs are a great beginning. James states, "Offices capitalize on the drive by traffic and capture the attention of the public. The vivid full color images display products, services and specials. Additionally, they can use the signs in conjunction with their vendors, allowing them to advertise on the sign to help promote brand names sold inside the office."
James also states that this works well for cosmetic surgery offices, weight loss doctors, eye doctors and cosmetic dentists, to name a few. He continues, "Dental Offices, Clinics and Hospitals are now turning to the powerful advertising medium of medical LED signs in order to communicate with their local community."
James and Advantage LED Signs have helped medical business of all types enhance their roadside image with the help of Doctor Office LED Signs. He advises, "If you own or operate a medical office, chiropractor office, optometrist office, clinic, pediatrics, animal hospital, veterinarian office, hospital or any medical services office, a medical LED sign can help you communicate and attract more clients. Look around at the competition on your street, in your complex, or around your city and think about how a large digital sign could draw customers to your office instead of theirs. LED Signs enhance the image of your office and allow you to bring new customers in all year long, not just when an advertisement is running."
About ADvantage LED Signs:
Established in 2009, ADvantage LED Signs is a US manufacturer of LED signs and LED Billboards, selling direct to businesses and organizations nationwide. ADvantage LED Signs operates as a total turn-key solution provider, stating that no job is too big or too small.