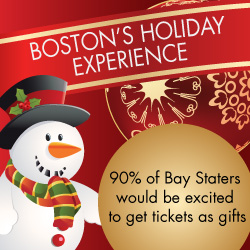 The experience of an arts performance can not only offer a great night out, but also a shared lifetime memory, making tickets the perfect holiday gift.
Boston, MA (PRWEB) December 05, 2012
A new survey from ArtsBoston taken by over 2200 Bay Staters finds that giving performing arts tickets tops the list for holiday gift giving. The survey results, depicted in a festive holiday infographic, also report that 78 percent of people have already purchased tickets as gifts in the past, and that eight out of ten would prefer tickets to an event rather than accumulating "stuff," indicating that creating shared experiences outlasts gifts.
ArtsBoston conducted the survey to better understand Bay Staters' holiday traditions, but it also revealed that an unexpected number of participants would be excited to receive tickets as a holiday gift.
"We were thrilled to learn that 85 percent of those surveyed felt so strongly about incorporating a live performance into their holidays," said Catherine Peterson, Executive Director of ArtsBoston. "As Michelle Obama recently espoused, the experience of an arts performance can not only offer a great night out, but also a shared lifetime memory, making tickets the perfect holiday gift."
Research over the past ten years supports the movement towards the "experience economy." According to Joe Pine, author of "Authenticity: What Consumers Really Want" and veteran consultant, "People don't want more stuff. In this post-growth global economy people start questioning what they really value and that is experiences with others, loved ones, colleagues, and friends."
In order to make shopping for tickets easier, ArtsBoston has created a Holiday Gift Guide, highlighting seven live arts performances with shows in January and February, including The Glass Menagerie presented by American Repertory Theater and Oliver presented by Wheelock Family Theatre, and also includes a Boston Symphony Orchestra Flex Pass good for any three shows, and BosTix Gift Certificates.
"One month into the 9th annual Mayor's Holiday Special campaign, we continue to see strong demand for live performances, breaking past sales records and confirming the survey findings," said Jennifer Falk, Director of Marketing at ArtsBoston. "While tickets for the popular Dr. Suess' How the Grinch Stole Christmas presented by Citi Performing Arts Center are available only until this Friday, December 7th, we have some amazing upcoming shows by ArtsEmerson, Stage Company and Disney On Ice: 100 Years of Magic which make great gifts."
About MayorsHolidaySpecial.com
MayorsHolidaySpecial.com is a collaboration between ArtsBoston, City of Boston Mayor Thomas M. Menino, the Mayor's Office of Arts, Tourism & Special Events, and the Greater Boston Convention & Visitors Bureau. It is the go-to resource for the complete Greater Boston holiday experience and exists to boost audiences by making holiday season performances more affordable, and further position the arts as an economic engine during this critical retail season. This year, the 9th annual, it offers more than 13,000 half-price tickets to more than 70 of the region's most beloved holiday performances, dining deals and gift ideas. The program launched November 1, 2012 and runs through January 1, 2013.
About ArtsBoston
For more than 35 years, ArtsBoston has championed the local arts community by connecting people of every age and background with the cultural organizations that call Greater Boston home. Equally important, through innovative programs like ArtsBoston.org and BosTix half-price ticketing that reach consumers both online and in person in Copley Square and Faneuil Hall Marketplace, area residents and visitors benefit from ArtsBoston's commitment to keeping the arts accessible and affordable. Since its origin in 1975, ArtsBoston has brought more than three million people to the arts and returned more than $55 million to Greater Boston's arts community. ArtsBoston.org