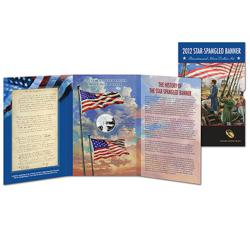 BALTIMORE (PRWEB) December 05, 2012
'Tis the season to shop for that perfect gift for family and friends. This year, avoid the busy stores and purchase a gift that can be cherished and passed down from generation to generation: The Star-Spangled Banner Commemorative Coin. The coin, issued by the U.S. Mint earlier this year, pays tribute to the bicentennial of the War of 1812 and Maryland's significant contributions. Time is running out as the coin will only be on sale until December 17th at 5:00 p.m. The coin is available in both gold and silver and as a special gift set.
It has become a tradition for Robert von Lunz to give each of his four grandchildren a commemorative coin for the holidays. "I want to give my grandchildren a gift that they will cherish and share for years to come," said Mr. von Lunz. "The Star-Spangled Banner Commemorative Coin pays tribute to Maryland's proud history and our unique role in our nation's freedom." His wife, Anna is a park resource manager at the Fort McHenry National Monument and Historic Shrine.
Designs of the commemorative coin represent the Battle of Baltimore and The Star-Spangled Banner. The commemorative coins are not just a memento of the bicentennial, but a piece of history. Proceeds from the coin support bicentennial events, programs and educational initiatives.
Margaret "Mark" Hoffberger, owner of Hoffberger Moving Services LLC, has purchased more than a dozen coins as holiday gifts. She was so inspired by the design that she had several coins made into necklaces. "The coin necklace is a great accessory for any outfit and is also a conversation starter at parties," said Ms. Hoffberger.
Louis Golino, a numismatic writer expressed his feelings on the coin. "The best commemorative coins are those that have really compelling designs," said Golino. "Few modern American commemorative coins are as aesthetically pleasing and iconic as the 2012 Star-Spangled Banner coins."
Corporations such as Papa John's, a Founding Partner of Star-Spangled 200, are gifting coins to their employees this holiday season. "We are recognizing our associates who worked so hard during Star-Spangled Sailabration in June," said Bob Billman operations vice president for Papa John's. "When they weren't serving pizzas to customers at the event, they took time to enjoy Baltimore. What better way to show our appreciation for them and for Maryland's history."
Baltimore-based Bosom Buddy Bags has created many stylish options to show off the coins. A special line of Star-Spangled handbags and holiday ornaments using the coins as decorative elements are available for purchase online.
The Maryland War of 1812 Bicentennial Commission and Star-Spangled 200 are implementing a three-year commemoration of the War of 1812. Star-Spangled Sailabration launched the bicentennial in June; the 18-month Chesapeake Campaign will commence beginning April 2013 and will lead up to Star-Spangled Spectacular in September 2014 to celebrate the 200th anniversary of the writing of The Star-Spangled Banner. The 2012 Star-Spangled Banner Commemorative Coins, available in both gold and silver, are available until December 17, 2012 and can be purchased online at StarSpangled200.com/coin.
About Star-Spangled 200, Inc.
Star-Spangled 200, Inc. is the non-profit 501(c)(3) organization that supports the fundraising goals of the Maryland War of 1812 Bicentennial Commission and is charged with helping to ensure the realization of successful programs, events, and community investment during the three-year commemoration period. For more information: visit http://www.starspangled200.com.
About the Maryland War of 1812 Bicentennial Commission
Established by Governor Martin O'Malley, the commission is staffed by the Maryland Department of Business and Economic Development, Division of Tourism Film and the Arts. The bicentennial period runs from June 2012 through February 2015. It commemorates Maryland's unique contributions to the defense and heritage of the nation, including the pivotal battle that led to an American victory and the birth of "The Star-Spangled Banner." For more information: visit http://www.starspangled200.org.