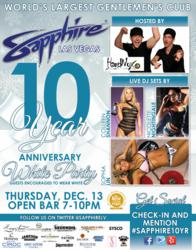 This is sure to be an event not to be missed. Sapphire is celebrating their 10th Anniversary as Las Vegas' premiere gentlemen's club and they are doing it with a big splash!
Las Vegas, NV (PRWEB) December 04, 2012
A chill in the air, twinkling holiday lights, icicles, snowmen and bikinis? Yes, bikinis! Not normally what you would expect in a winter wonderland, bikini clad snow maidens will be showing off those rosy cheeks at the new "Sapphire Pool and Day Club" during 10th Annual Anniversary Party. Snowballs will be replaced with beach balls and a snow blowing machine will provide snow, adding the final touch to this Winter Wonderland. Guests are encouraged to dress in white for the Anniversary Party festivities.
Hosting the party and performing poolside will be HardNox, the super-talented duo, comprised of artist / songwriter / production team, Danny Boy and Jimbo. Expect a crazy, animated show by the brothers who live to perform their unique blend of hip-hop, rock, pop, and punk. HardNox is most frequently known their hit single "She'd Rather Be with the DJ" played all over the country on Top 40 radio stations.
Playboy Playmate Coleen Shannon, voted "The World's Sexiest DJ", will DJ poolside and set the pace for the night as she guides guests through an evening of fun, spinning today's best music all night long. Also appearing will be Playboy Playmates Sophia Lin and Nicolette Nightingale.
There will be drink specials featuring Belvedere, Hennessey, Moet Ice Champagne, Abslout, Jameson, Malibu, St. Germain, Patron, X- Rated, Jagermeister, Bacardi and Grey Goose; some of the major liquor partners for the event. Hot food will be provided by Masterpiece Cuisine, Fatburger, El Segundo Sol, Island Sushi and Grill, Krung Siam and Sysco. The pool area will be covered by a tent and guests will be kept toasty by indoor heaters.
There will be endless raffles and prizes (iPods, digital cameras, iPads and our grand prize: a VIP Skybox for the evening). Also there for your entertainment will be over 400 of the most beautiful (and friendliest) women you have ever laid eyes on there for your entertainment. Retreat to one of 10 private Skyboxes overlooking the main floor for a more "intimate" party with your favorite one because really, it's the dancers that'll put that smile on your face in the first place.
The $8 million Sapphire Pool and Day Club includes a multi-level, state-of-the-art, three-tier pool utopia that can comfortably accommodate over 700 sun-worshiping party goers. Some of the features and amenities include men's and women's locker rooms with rich, natural woods, Italian tiles, plush fabrics and quality finishes that will pamper each guest with privileged comfort; two hot tubs, VIP cabanas, day beds, lounge chairs, DJ booth, entertainment platform, pool concierge and a retail area displaying a full line of clothing and Sapphire swag.
An indoor/outdoor bar and restaurant, the Sapphire Grill will service the entire club and pool complex 24 hours a day. The Sapphire Grill is the ideal place to enjoy a light lunch between swimming and sunbathing by the pool. Guests can enjoy a quick snack or linger over a full meal. The menu features a tempting selection of sandwiches, burgers, salads, lobster, shrimp cocktail, steak sandwiches, dishes of the day and frozen drinks and specialty cocktails.
Palms and lush tropical landscaping line Industrial Road and access and parking have also been taken into consideration and include a cab stand as well as limo line and valet under porte-cochere specifically for pool guests.
Peter Feinstein, Managing Partner of Sapphire, said the Sapphire Pool and Day Club has been a long time coming. The 21,000 square-foot facility located on the south side of the Sapphire club is scheduled to open for pool season in March 2013. "We've been working on this project for several years now," Feinstein said. "We are excited to see it come to fulfillment."
The pool will be open from about 10 a.m. to 7 p.m. Thursdays through Sundays during pool season and, in addition to being a poolside party oasis, will host entertainment and concerts much like the casino resort pools. The all new indoor/outdoor restaurant will be serving food 24 hours a day.
Sapphire, located at 3025 S. Industrial Road in Las Vegas, is the World's Largest Gentlemen's Club with 70,000 square feet of topless entertainment. Get to the club early or reserve a table today. Open 24/7 to patrons 21 and over, Sapphire serves the finest variety of cocktails, wines, champagne and cigars.
Party invitations tend to snowball in the weeks leading up to Christmas but this is sure to be an event not to be missed. Sapphire is celebrating their 10th anniversary as Las Vegas' premiere gentlemen's club and they are doing it with a big splash! The Anniversary Party is December 13th and begins at 7pm with an open bar to 10pm, hors d'oeuvres, and many more surprises!
So grab the guys and girls and head to the Sapphire 10th Anniversary Celebration and join us for a champagne toast and an evening you won't soon forget! For table reservations call 702.869.0003 or book online at http://www.SapphireLasVegas.com. And for special offers and updates follow Sapphire LV on twitter @sapphirelv.