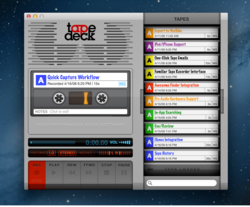 "TapeDeck is a popular application with songwriters, physicians, students, musicians and teachers."
WATERLOO, Ontario and BOSTON, Massachusetts (PRWEB) December 06, 2012
"When TapeDeck first launched in 2008, we worked hard to make an application that took full advantage of Core Animation to deliver a delightful user experience," said Chris Liscio, SuperMegaUltraGroovy's founder. "Now with the new Retina displays, we can continue delivering that experience at an even higher fidelity."
As its predecessor, TapeDeck 1.5 features the cool retro interface reminiscent of an 80's tape recorder. It offers a quick-capture workflow, allowing you to automatically save your recording as soon as you hit STOP. Using the Apple Lossless Audio Codec, TapeDeck captures its High Quality recordings with full fidelity, ensuring that your musical ideas are kept intact when moved to Garage Band or Logic.
"TapeDeck is such a popular application with songwriters, physicians, students, musicians, teachers," says Liscio. "The user base is very diverse, and always growing. This release embraces Apple's newest OS technologies in order to continue delivering its delightful and unique experience to a growing pool of diverse Mac users."
TapeDeck 1.5 requires a Mac running OS X 10.8 Mountain Lion, and also adds support for Apple's Sandboxing security feature while also adopting other new technologies under the hood. In addition, this update includes many performance and stability improvements.
Pricing & Availability:
TapeDeck is available for $4.99 (US) for a limited time, a 75% discount off its regular price of $19.99. TapeDeck can be purchased directly from http://tapedeckapp.com, or from the Mac App Store. A free trial is available from http://tapedeckapp.com which limits recordings to 5 minutes at low quality.
About SuperMegaUltraGroovy, Inc:
Chris Liscio founded SuperMegaUltraGroovy in 1999, writing BeOS audio software during his undergraduate studies at the University of Waterloo. SuperMegaUltraGroovy also develops Capo and FuzzMeasure, both winners of Apple Design Awards.
About toastycode:
Daniel Sandler started releasing software under the toastycode label on the fourth of July, 2006 with the debut of Pyrothéque, his love letter to a misspent youth in a computer lab full of Mac Pluses, ImageWriters, and pixellated fireworks.