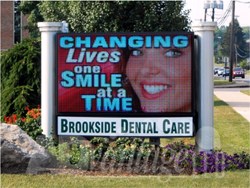 "Once customers, such as Brookside Dental Care, see what our content creation service can do to maximize the potential of their new LED sign, they want to sign up." Richard James, ADvantage LED Signs
Wescoville, PA (PRWEB) December 18, 2012
Brookside Dental Care has seen an increase in business recently due to the work of Mark Bullock and ADvantage LED Signs. Mr. Bullock worked side by side with Brookside to create a sign that really captures the attention of prospective and current patients. Due to the outstanding results seen from the use of the LED sign, Brookside Dental Care has opted to make use of the content creation services offered by ADvantage LED. This service gives businesses access to professional artists who create fresh tailored content for their LED sign on a monthly basis.
"Once customers, such as Brookside Dental Care, see what our content creation service can do to maximize the potential of their new LED sign, they want to sign up. We ensure that all content is fresh and personalized for the business it is advertising. Whether a business has Medical LED signs, restaurant signs or led signs for a car wash, the content will be designed to fulfill the particular needs of that industry," states Richard James, media contact for ADvantage LED signs.
Mr. James goes on to say, "Many businesses don't realize the importance of professional LED sign content creation. When used properly, the content taps the potential ROI the LED sign can provide." According to the Small Business Administration, adding LED signs to a business increases the client base by as much as 15-150%. To make use of the maximum potential of the sign, the message must be both timely and relevant. This is true for Dental LED signs as well as LED Church signs. "With our content creation service, this is never an issue," Mr. James explains.
The average business has over 20,000 vehicles pass by on a daily basis. Each person in these vehicles is a potential customer. Is the business sign reaching them effectively? Do customers know what specials are currently being offered and the services provided? Mr. James states, "If not, our content creation service helps reach these customers while providing them with the information needed to bring them into the business."
About ADvantage LED Signs:
ADvantage LED Signs was established in 2009 and is a US manufacturer of LED signs and billboards. The company sells directly to businesses and organizations across the nation. ADvantage LED Signs operates as a total turn-key solution provider, stating that no job is too big or too small. The company offers the best value in full color outdoor LED video displays currently offered. Both full color and single color signs are available and no other company matches ADvantage LED Signs when it comes to quality and expertise.