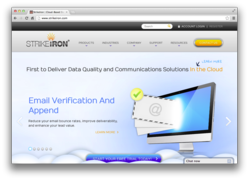 Cary, NC (PRWEB) December 06, 2012
StrikeIron has recently launched a redesigned website (strikeiron.com). The new site, the first major redesign since 2009, has a contemporary Web 2.0 look to reflect the brand's current positioning as the cloud leader in data quality and communications. Beyond aesthetics, the site is a major improvement in speed, user experience (UX) and ease of use.
The site showcases the same great powerful, proven StrikeIron solutions, but through a user-friendly and intuitive interface. Easy-to-use navigation and page organization streamlines the whole site. The redesign also centers on providing top-tier content, educating and guiding end-users including customers, partners and other visitors to access information with greater ease. Key features include industry-specific pages and a resource library with educational materials such as whitepapers, webinars and case studies.
"We designed the site with our end-users in mind, keeping a keen eye on intuitiveness and simplification," said Justin Helmig, VP of Marketing at StrikeIron. "Our goal was to act as a sherpa, assisting and helping users find content when and where they need it."
About StrikeIron:
StrikeIron is the leader in Data-as-a-Service (DaaS), delivering data quality and communications solutions via our cloud platform IronCloud. We provide email verification, address verification, phone validation, phone/address/email append, SMS text messaging, and sales tax solutions to customers in a variety of markets. Our solutions are delivered as Web services that can be easily integrated into any application or system. Additionally, our solutions are pre-integrated into leading platforms like: Magento, Marketo, Eloqua, Salesforce.com, Informatica, Oracle CRM On-Demand and more. Visit us on the web at http://www.strikeiron.com.