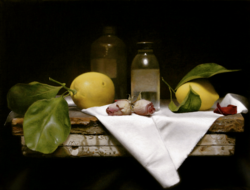 Charlotte, NC (PRWEB) December 05, 2012
McColl Fine Art, a premier fine art gallery in Charlotte, North Carolina, is pleased to announce that they are now representing Peruvian artist, Carlos Madrid. Mr. Madrid is a painter of the classical tradition and specializes in oil painting and drawing technique. His goal as an artist is to emulate and recreate the timeless craftsmanship and content found in the work of the Great Masters.
"Since 1980, I have dedicated myself completely to mastering the drawing and painting techniques of the past, including the egg tempera-oil mixed technique which I learned from the painter Ernst Fuchs in Austria," said Mr. Madrid. "My guides are the great Masters of the past and I am totally committed to the achievement of excellence in my craft and to the tradition of story telling through images."
Carlos Madrid has studied with numerous masters in prestigious schools, including The Florence Academy of Art, Jacob Collins, The New York Academy of Figurative Art, The Art Students League of New York and Parsons School of Design. He has lived and worked in 10 different countries and has extensive teaching experience in the United States, Norway and Italy.
"We are pleased to welcome Carlos Madrid to the gallery and also congratulate him for his recent success at the Houston Art show," said Joe Panarelli of McColl Fine Art.
For further information about McColl Fine Art, including a biography of Mr. Madrid and color photographs of his paintings, visit the McColl Fine Art website.
About the company:
McColl Fine Art is one of the premier art galleries in the Country. Located at 126 Cottage Place in Charlotte, NC, McColl Fine Art specializes in fine American and European paintings with a primary focus on select works from the 19th Century and early 20th Century, as well as Classical Contemporary works of art. They offer works of exceptional quality from periods including the Barbizon School, the Hudson River School, Academic painting, Impressionism and Post-Impressionism. For more information visit their website at http://www.mccollfineart.com.