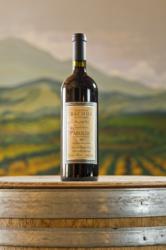 It's a great experience, intimate and informative
Temecula Valley, CA (PRWEB) December 06, 2012
Temecula Valley Winery Gershon Bachus Vintners announced today that it has released two new wines in their De Portola Wine Trail tasting room in Temecula, CA.
The much-loved 2005 Zephyrus Zinfandel is no longer available. The last two cases of this winery favorite have now been added to the library collection. Gershon Bachus Vintners 2005 Aquilo Cabernet Sauvignon has been taken out of their line up too, and is now only available as a library wine at $95.00 per bottle.
Offered in place of the two retired wines, GBV launched its proprietary 2008 Estate Blend, AEOLUS – the granddaddy of the "Wind Series" wines. The Keeper of the Winds blend consists of each of GBV's Estate Red varietals from the 2008 harvest, a perfectly balanced wine. You will prominently taste the attributes from the Cabernet Franc, Zinfandel and Grenache. Aeolus is a true storyteller; each varietal is prevalent with a strong nose, front, middle and a nice spiced finish. Aeolus retails for $50 in the GBV tasting room and online at http://www.gershonbachus.com.
Second to none, is the GBV 2007 Aquilo Cabernet Sauvignon. Watching this wine mature was a true experience for those in Gershon Bachus' focus group over the past two years. Aged in 100% Hungarian Oak barrels, this wine is smooth and silky with a long finish. Fruit driven, with a little tannin, this wine differs from its 2005 predecessor of the same Aquilo brand. While the flavor palate is similar and the structure consistent, the 2007 represents the variety perfectly. 2007 Aquilo Cabernet Sauvignon retails for $55 and is available only through the tasting room or online at http://www.gershonbachus.com.
Gershon Bachus Vintners estate vineyard and winery is located at 37750 De Portola Road Temecula, CA 92592. They are only open weekends, and close for events, therefore, be sure to call or check Facebook for open dates and time. Never been to GBV before? It is a great experience, intimate and informative.