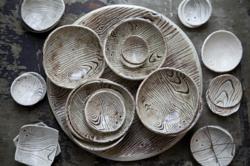 (PRWEB) December 12, 2012
Mame Kennedy Ceramics is having a terrific sale on the trendy innovative Woodware(Faux Bois) line.
Come visit the sale for your holiday list https://mamekennedyceramics.bigcartel.com
Mame Kennedy is an artisanal ceramicist working both on the wheel and with slabs. Every piece is handmade by her—formed, carved, painted, glazed & fired. No molds are used. Patterns and forms are repeated but each is individually handmade and thus unique.
Selected pieces are available at
Rural Residence, 316 Warren Street, Husdon, NY 12534 (518) 822-1061
Duane, 306 East 61st St, NYC 10065 (212) 625-8066
or contacting Faucher Artists.