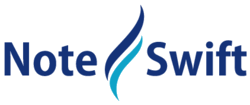 Atlanta, GA (PRWEB) December 05, 2012
NoteSwift LLC today announced the availability of NoteSwift for Amazing Charts™ electronic health record (EHR) solution. NoteSwift works with Dragon Medical Practice Edition from Nuance to take speech recognition to the next level of efficiency, saving physicians up to thirty minutes per day.* Click here for a video
NoteSwift expands the power of Dragon Medical by enabling an entire patient visit to be captured in Amazing Charts from start to finish using speech recognition. Advanced technology enables a continuous dictation style that expedites the documentation process by minimizing pointing and clicking, and eliminating typing for most patient visits.
According to Medscape, in their 2012 EHR report surveying over 21,000 physicians, Amazing Charts EHR platform ranked the best in 12 categories and now with NoteSwift, the practitioners will save even more administrative time by automating the speech input of patient notes.
Features include:

Structured Data Entry – NoteSwift is the only solution enabling information such as medications and allergies to be captured into the EHR via dictation as searchable, structured data.
Seamless Navigation – NoteSwift enables fast, seamless progression through records by requiring minimal navigation phrases and virtually no manual intervention.
Eliminates Costly Customization – NoteSwift makes Amazing Charts "workflow friendly," eliminating the need for the extensive customization that is typically required.
"EHRs improve many aspects of a medical practice, but can cause frustration for physicians because they increase the time spent documenting patient visits due to all the pointing, clicking, and typing that's required," said Chris Russell, MD, founder, NoteSwift LLC. "Dragon has helped automate the input, but only in a batch mode. NoteSwift significantly improves the input process and allows physicians to spend more time with patients by enabling them to use a familiar, traditional dictation style to input patient information into structured fields."
NoteSwift, supports the requirements of the HITECH Act, which offers federal stimulus funds to physicians that show "meaningful use" of EHRs in their practices.
NoteSwift for Amazing Charts will be demonstrated at the Amazing Charts User Conference in Washington, DC, November 2-4. NoteSwift for Amazing Charts is available immediately through your local reseller. For more information about NoteSwift, visit http://www.noteswift.com or send an email to info(at)noteswift(dot)com
About NoteSwift LLC
NoteSwift is dedicated to improving physician workflow with innovative technology solutions. The company was founded by Dr. Chris Russell, a software engineer-turned-physician who recognized that speech recognition was an unfulfilled technology in medicine with great promise. NoteSwift currently offers speech recognition enhancement solutions for the Allscripts Professional and Allscripts MyWay electronic health record platforms. The company is based in Atlanta, GA.
*Industry research show that on average, physicians spend more than one hour per day on patient visit documentation. NoteSwift-conducted timing test have shown that when NoteSwift is used in conjunction with Dragon Medical Practice Edition and Allscripts, the time required to document patient visits can be reduced by 30 minutes.
NoteSwift and the NoteSwift logo are trademarks or registered trademarks of NoteSwift LLC, Inc. in the United States of America and/or other countries. All other company names or product names may be the trademarks of their respective owners.
###