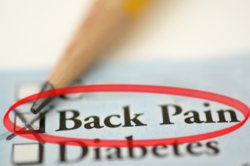 The world needed a fast and easy way to find a Chiropractor quickly when you are in pain.
Chicago, IL (PRWEB) December 06, 2012
Business owner & Lead Generation expert, Mary Shanley was in New York at a Conference when she tripped running for a cab and immediately knew she had re injured her back. An old soccer injury popped up a couple of times a year and it needed immediate help. Back in Chicago she had a trusted local Chiropractor who would have been able to alleviate the pain in 20 minutes, but in downtown Manhattan she was unsure who to call.
An hour later she had a business plan mapped out for a new business and 1800-Back-Pain was born.
"It hit me right then. The world needed a fast and easy way to find a Chiropractor quickly when you are in pain. Luckily, my business Partner, sister Noreen Shanley, had also suffered intermittent back pain and recognized how helpful a Chiropractic Doctor can be to sufferers of back, hip and shoulder pain. Noreen and I did a few weeks of research and were convinced that a single 1-800 number for consumers to find a local Chiropractor was absolutely going to be well received.
"With a 24/7 professional Call Center answering the phone to help the consumer, whether you are searching for someone near your home, your job or even when you are traveling out of town like I was, it's a fast and easy solution for back pain sufferers."
1800 BackPain launched November 15 and response has been great. Consumers can visit the website to find a local chiropractor, (http://www.1800-back-pain.com) or call the phone number, 1800-Back-Pain, 24 hours a day to find a chiropractor and be immediately connected to the local chiropractic office.
For Additional Information call Mary Shanley @ 1-773-205-4970 or email mshanley(at)callttc(dot)com.