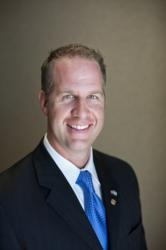 Brian Metzger El Paso is promoted to the position of Partner at Fortune 100 Company New York LIfe Insurance in El Paso, TX.
El Paso, TX (PRWEB) December 10, 2012
Brian T. Metzger has been named partner of El Paso, TX General Office of New York Life Insurance Company. Among many duties, in this capacity his main responsibilities are recruiting new agents, training and developing agents, achieving satisfactory retention levels and assisting in the overall operation of the office.
Brian Metzger has worked at New York Life's El Paso, TX General Office for the past 4 years with past positions including Agent with New York Life Insurance Company and Registered Representative with NYLIFE Securities LLC (member FINRA/SIPC), A Licensed insurance Agency 303 N. Oregon Street El Paso, TX 79901. Brian Metzger is a member of NAIFA, the National Association of Insurance and Financial Advisors.
Brian Metzger transitioned to the partner role after being a highly successful agent at New York Life. He received the distinction of being a 3 year Executive Council Agent for each year he worked at the company. Members of the Executive Council are among the most successful of New York Life's elite sales force of 11,900 licensed agents. He also was distinguished as a Qualifying member of MDRT, the Million Dollar Roundtable, in 2011, his last year as an agent. Achieving membership in MDRT is a distinguishing life insurance career milestone, attained only by those who have demonstrated superior professional knowledge, experience and client service. MDRT membership represents the top life insurance and financial service professionals worldwide. MDRT is an international, independent association of the world's best life insurance and financial services professionals.
Brian Metzger is a proud member of the El Paso, TX community and has resided in El Paso for 10 years. He is a happily married to his wife of 12 years, and has three children.
New York Life Insurance Company, a Fortune 100 company founded in 1845, is the largest mutual life insurance company in the United States* and one of the largest life insurers in the world. New York Life has the highest possible financial strength ratings currently awarded to any life insurer from all four of the major credit rating agencies: A.M. Best (A++), Fitch (AAA), Moody's Investors Service (Aaa), Standard & Poor's (AA+).** Headquartered in New York City, New York Life's family of companies offers life insurance, retirement income, investments and long-term care insurance. New York Life Investments*** provides institutional asset management and retirement plan services. Other New York Life affiliates provide an array of securities products and services, as well as retail mutual funds.
Please visit New York Life's Web site at http://www.newyorklife.com for more information.
*Based on revenue as reported by "Fortune 500, Ranked within Industries, Insurance: Life, Health (Mutual)," Fortune magazine, May 21, 2012. See http://money.cnn.com/magazines/fortune/fortune500/2012/faq/ for methodology.
**Source: Third Party Ratings Report as of 6/22/12.
***New York Life Investments is a service mark used by New York Life Investment Management Holdings LLC and its subsidiary, New York Life Investment Management LLC. # # # Bates 00358687