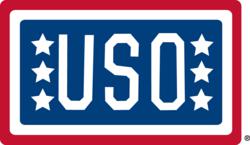 Arlington, Va. (PRWEB) December 04, 2012
Twitter Pitch: Troops in Middle East and Germany rev up for @NASCAR and @the_USO tour with @joeylogano and @StenhouseJr
WHAT: USO tour featuring NASCAR drivers Joey Logano and Ricky Stenhouse Jr.
WHEN: Winter 2012
WHERE: Middle East and Germany
WHY: This holiday season NASCAR is once again teaming up with the USO to deliver good cheer and holiday tidings to our nation's heroes serving in the Middle East and Germany. As part of the second annual NASCAR/USO tour, NASCAR Sprint Series driver Joey Logano and two-time and reigning NASCAR Nationwide Series champion Ricky Stenhouse Jr. will deliver a touch of home to troops stationed overseas. This trip will mark Logano's second USO tour as he visited hundreds of troops and military families serving at Guantanamo Bay, Cuba last year along with 2012 NASCAR Sprint Cup Series champion Brad Keselowski. This will be the first USO tour experience for Stenhouse.
In addition to visiting troops in the Middle East and Germany, Logano and Stenhouse will also pay a visit to the USO Warrior Center at Landstuhl Regional Medical Center and extend America's thanks to our recovering heroes.
To find out how the USO is supporting our troops, military families and our wounded, ill and injured this holiday season visit us online at http://www.uso.org/wishbook.
QUOTES:
Attributed to Joey Logano:
"I am excited to be heading out on my second USO tour; my experience last year with the troops and military families at Guantanamo Bay was unforgettable. This year's trips is going to be memorable as well because we'll have the opportunity to tell the troops in the Middle East and Germany how much America appreciates their hard work and sacrifice. I can't wait!"
Attributed to Ricky Stenhouse Jr.:
"Its tough not being able to spend the holidays with your family and friends. I'm thankful that Joey and I will be able to give back to our troops, who put so much on the line for us every day. It's a good feeling knowing that our USO tour will lift their spirits during this holiday season."
For more information about the USO, visit uso.org.
About the USO
The USO (United Service Organizations) lifts the spirits of America's troops and their families millions of times each year at hundreds of places worldwide. We provide a touch of home through centers at airports and military bases in the U.S. and abroad, top quality entertainment and innovative programs and services. We also provide critical support to those who need us most, including forward-deployed troops, military families, wounded warriors and their families and the families of the fallen.
The USO is a private, nonprofit organization, not a government agency. All of our programs and services are made possible by the American people, support of our corporate partners and the dedication of our volunteers and staff. In addition to individual donors and corporate sponsors, the USO is supported by President's Circle Partners: American Airlines, AT&T, Clear Channel, The Coca-Cola Company, jcpenney, Kangaroo Express, Kroger, Lowe's, Northrop Grumman Corporation, Procter & Gamble, and TriWest Healthcare Alliance and Worldwide Strategic Partners: BAE Systems, The Boeing Company, Lockheed Martin, Microsoft Corporation and TKS Telepost Kabel-Service Kaiserslautern GmbH & Co. KG. We are also supported through the United Way and Combined Federal Campaign (CFC-11381). To join us in this patriotic mission, and to learn more about the USO, please visit uso.org.
###