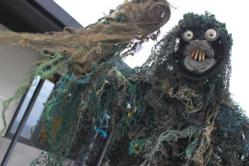 Sometimes, environmental problems feel just too big - as big as a whale with a belly full of plastic netting,' explained Judith Lang
Sausalito, Calif (PRWEB) December 05, 2012
This December, guests visiting The Marine Mammal Center in Sausalito, CA, can experience The Ghost Below, a thought-provoking, year-long art exhibition that explores the harmful effects of marine debris. Throughout the year different multi-sensory art installations will reveal the ocean's beauty, connectivity and fragility, and in turn, inspire people to make the ocean a healthier place for all.
Marin County artists Richard Lang and Judith Selby Lang were inspired to create their first sculptural installation for The Ghost Below exhibit after learning about the death of a sperm whale. In 2008, Dr. Frances Gulland, senior scientist at The Marine Mammal Center, and her team, was asked to conduct a post mortem on an adult sperm whale that had washed up on a beach in the Point Reyes National Seashore, CA. This creature had ingested approximately 450 pounds of ocean trash, mainly "ghost nets" - derelict fishing nets that are abandoned or lost by fishermen - and other plastic scraps. This resulted in an intestinal blockage and was the cause of the animal's death.
In this exhibit, the ghost in the title also applies to the broader problem of ocean trash – discarded garbage that lurks beneath the surface and haunts the ocean and the marine life that call it home.
"Sometimes, environmental problems feel just too big — as big as a whale with a belly full of plastic netting,: explained artist Judith Lang. " But when we join forces with other kindred spirits to address the problem, we are filled with hope!"
Shocked by the volume of netting consumed by this whale, the Langs created a 6-foot-wide by 9-foot-tall hulking "creature" from 162 lbs of net from the animal's stomach. It is mounted on a frame made from repurposed scrap aluminum created by fabricator Alex Treu. The nets and rope at the base are from the "plastic soup" known as the North Pacific Gyre and was collected by members of Project Kaisei. The face is made of plastic trash from Kehoe Beach, CA. Standing guard in the Center's courtyard, the Langs hope this "net monster" will awaken people's senses and motivate everyone to take action to address the vast problem of trash in the ocean.
"Through this exhibit we hope to prompt people to change behavior, and it starts by educating and providing people with a sense of empowerment," explained Dr. Jeff Boehm, executive director at The Marine Mammal Center. "Every year we rescue seal and sea lion patients entangled in fishing line and other garbage like packing straps and balloon ribbons. Hawaiian monk seals, for example, are the most endangered seal in U.S. waters with only 1,100 left in existence and they are greatly impacted by marine debris; they are a direct example of how people's trash has become a silent killer."
The Marine Mammal Center plans to add different art installations to the exhibit as well as conduct an educational outreach and community awareness program about the harmful effects of ocean trash.
"The Langs will also produce a second sculpture for the exhibit themed after Indra's Net – a story of a Buddhist, Indra, a Hindu God who cast a net with jewels that each reflected light from each other representing the interconnectedness of the world and its inhabitants," said Anne Veh, curator for The Ghost Below.
The Ghost Below exhibit will run through the end of 2013. It is generously sponsored by PG&E: "Fostering Environmental Sustainability at The Marine Mammal Center."
Learn more at MarineMammalCenter.org/ghostbelow
Ocean Trash Facts:

According to the Ocean Conservancy, approximately 100,000 marine mammals and 1 million sea birds die from entanglement in or ingestion of ocean trash each year
In 2004 the U.S. Commission on Ocean Policy identified bycatch as the greatest global threat to cetaceans (whales, dolphins, and porpoises). Marine experts estimate that more than 300,000 cetaceans are killed by fishing gear every year. Source: Randall Reeves, lead author of the WWF-U.S. report (2005), chairs the World Conservation Union's Cetacean Specialist Group, based in Gland, Switzerland
According to 5 Gyres, an ocean conservation and research group, it's estimated that there is 318 billion pounds of plastic trash floating within the world's 5 gyres.
Plastic is forever: According to the Ocean Conservancy, it can take as long as 400 to 1,000 years for a plastic bottle to decompose into miniscule pieces, and it never truly goes away
About the Artists:
Since 1999, Richard and Judith Lang have been visiting a 1000 yard stretch of Kehoe Beach in the Point Reyes National Seashore gathering plastic debris that washes out of the Pacific Ocean. After carefully collecting and sorting the bits of plastic, they fashion it into works of art that show the material as it is while telling an underlying story about our throw-away culture and our dependency on what they call "thermoplastic junk". They've had over 40 exhibitions located in a range of places from local libraries to the SFMOMA and the US Embassy in the Republic of Georgia. Learn more at BeachPlastic.com.
About The Marine Mammal Center:
The Marine Mammal Center is a nonprofit animal hospital, research and education center dedicated to the rescue and rehabilitation of sick, injured and orphaned marine mammals, and to the study of their health. Since 1975, the Center has been based in the Marin Headlands, Sausalito, CA within a Golden Gate National Park, and has rescued nearly 18,000 marine mammals along its 600 mile rescue range. Visitors to the Center have the unique opportunity to learn about marine mammals through viewing areas, educational exhibits and docent-led tours. FREE admission, open daily 10 A.M. – 5 P.M (except Thanksgiving, Christmas and New Year's Day) MarineMammalCenter.org.
###