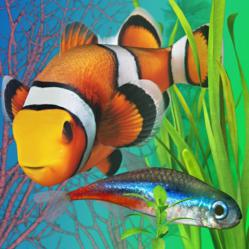 Sarasota, FL (PRWEB) December 07, 2012
Fish Farm 2, the most realistic – and beautiful – 3D fish farming game for the iPhone, iPad and iPod touch is now available for free download in the App Store. With Fish Farm 2 players can feed their vibrantly colored fish, play with them and breed them to get the most visually amazing fish they've ever seen.
With Fish Farm 2, players can create everything from the species of fish to elaborate undersea homes.
Fish Farm 2 can be downloaded from the App Store at https://itunes.apple.com/us/app/fish-farm-2/id579721088?mt=8
"The most advanced feature of Fish Farm 2 is the visuals," said Raik Bittner, creator of Fish Farm 2 and head of Bitbros, Inc. "The fish and decorations appear as close to a real aquarium as possible. Fish Farm 2 beats any other fish farming game and, unlike other fish farming games, you can play offline, too!"
Fish Farm 2 Features

Brilliantly colored, realistic 3D fish
Customize up to 20 aquariums with lots of decorative items
Saltwater or freshwater aquariums
Crossbreed fish for unlimited variations
Most realistic movements ever
Send and receive gifts
Acquire skills and make the game easier to play
Play with fish to earn additional coins
Zoom into tanks
Collect fish to earn rewards
Even play Fish Farm 2 offline
With Fish Farm 2 the possibilities are limitless. Buy, breed, and sell exotic freshwater or saltwater fish. As players reach higher levels in the app they earn coins and access to more fish, backgrounds and aquarium decorations.
SEE THE VIDEO – Fish Farm 2
http://youtu.be/wsF9b4vcRx4
About Bitbros Inc.
Located in Sarasota, Florida – where the World's most beautiful tropical fish swim in the ocean – Bitbros is committed to bringing exciting and most realistic games to mobile players everywhere. Contact us at http://www.bitbros-games.com.
MEDIA CONTACT
Peter Brooks
415-425-4225
peterjbrooks(at)msn(dot)com