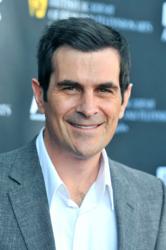 I care deeply about the pristine land in this country and, more importantly, I'm committed to winning an online contest
Arlington, VA (PRWEB) December 05, 2012
The Nature Conservancy is excited to announce that actor Ty Burrell of ABC's hit sitcom "Modern Family" is joining forces with the organization to raise much-needed funds to protect nature.
Through January 10, the Conservancy and Burrell are competing with other nonprofits and their celebrity counterparts in the Crowdrise Mozilla Firefox Challenge. The organization that collects the most funding from its supporters will receive an additional $50,000 donation from the Mozilla Corporation. As an added incentive, Burrell is inviting one lucky supporter to visit him on the set of "Modern Family."
"Crowdrise offers such innovative and engaging ways to raise funds and awareness, like the Mozilla Firefox Challenge," said Geof Rochester, the Conservancy's chief marketing officer. "We're so grateful for Ty's support, and we're confident we can take the top spot with his help."
Burrell, who earned a Primetime Emmy for his role as Phil Dunphy on "Modern Family," cares deeply about protecting the world's most pristine places, including the land in his home state of Utah.
"I have never been described as a 'winner,' except for sarcastically by my junior high P.E. teacher. I have, however, 'won' by being lucky enough to have grown up in Oregon and to live in Utah, near the Great Salt Lake," said Burrell. "Though the abundance of nature is more obvious in those areas, cities like San Francisco, where nature is incorporated into the urban landscape itself, are equally important. A great example is New York City, where if you drive or take the train just an hour or so outside of the largest metropolitan city in the U.S., you are met with some of the most beautiful land in the country. I care deeply about the pristine land in this country and, more importantly, I'm committed to winning an online contest."
"I will bring a little bit of Phil Dunphy's 'go get 'em' spirit to win this competition in order to protect our lands not only here in the United States, but also in Winnerville, where I hope to reside," Burrell continued. "Let's prove everyone who's ever met me wrong and win this thing!"
To support The Nature Conservancy's efforts to conserve the lands and waters on which all life depends, please visit Ty Burrell's Crowdrise page.
###
The Nature Conservancy is a leading conservation organization working around the world to protect ecologically important lands and waters for nature and people. The Conservancy and its more than 1 million members have protected nearly 120 million acres worldwide. Visit The Nature Conservancy on the Web at http://www.nature.org.