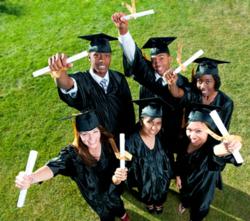 Perhaps colleges and universities can serve high school students by administering free tests to them any time, even before senior year?
Minneapolis, MN (PRWEB) December 05, 2012
Minnesota is one of several states grappling with the divisive issue of testing high school seniors to ensure they meet the state's graduation standards. The final test—called the GRAD test—covers reading, writing and math. The stakes are high, too high. In fact, some officials complain the math portion of the test is beyond the capabilities of thousands of graduating students.
According to the St. Paul Pioneer Press, "In some districts, as many as one-third of seniors wouldn't have graduated because they didn't pass the mathematics graduation test." Moreover, only 57 percent of students pass the existing test the first time, with most stumbling over the challenging math section. Today, seniors who never pass the math test are granted a waiver and allowed to graduate. But that waiver will disappear in 2015 unless drastic changes are made.
Where do colleges and other post-secondary schools weigh in on this issue? They should have a voice in the dialog. If freshly minted high school graduates are arriving at the doorsteps of colleges and universities unprepared to take on the rigors of collegiate work, everyone loses. School systems lose because they are graduating academically unprepared students. Colleges lose because they must place incoming freshmen into remedial courses. Finally, students lose because they pay for remedial course credits.
According to a recent Minnesota Public Radio news story the state is looking at different options to address the issue. One option is easing the difficulty of the math test—experts observe passing it is the equivalent of scoring a 22 on the math portion of the ACT college entrance exam. Another option is replacing it altogether with a series of milestone tests as students progress through the school system.
A series of tests administered throughout the student's career may be a better tool for measuring progress. Under this system, initiated with success by many states, schools can reveal academic deficiencies early on and propose tutoring or other support to help close any learning gaps.
Education is like farming … it can't be rushed. Schools can't force three or four years of knowledge into a student over a six-month period any more than a farmer can skip the growing season and jump to the harvest. But incremental testing can reveal a student's academic shortcomings along the way.
A Role for Colleges and Universities in GRAD Testing
Perhaps colleges and universities can serve high school students by administering free tests to them any time, even before senior year? Most colleges do a great job of helping students navigate their paths to graduation. But, there can also a role for colleges in helping high school students even before their college journeys begin.
By Jeff Myhre, Chief Communications Officer for Globe University, Minnesota School of Business and Broadview University. The schools are part of a premier, family-owned system of career colleges, universities and training centers based in Woodbury, Minn.