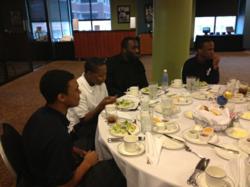 At the end of the day, I just want them to know that in life you always win if you give 100%.
Detroit, IL (PRWEB) December 04, 2012
Students from the Detroit Lions Academy joined Lions' defensive standout, Justin Durant for a holiday luncheon at Ford Field. The intimate lunch took place in the grand Hall of Legends suite overlooking the playing field. 18 students earned the lunch by achieving perfect attendance for eight weeks in the months of October and November.
Ford Field's Executive Chef Joe Nader planned a very special menu for the group which started with light hors d' oeuvres. His aim was to give the group a true fine dining experience, with an emphasis on flavorful but healthy cuisine. The four course menu included Caesar salad, beef tenderloin with a mushroom demi glaze and a chocolate paradise cake.
While Justin congratulated the students on reaching their goal and emphasized that it was worthy of a celebration, he made sure to encourage the attendees to continuously put forth their best effort. Detroit Lions Academy students attend the school due to previous challenges in traditional educational settings ranging from academic to behavioral. The lunch with Justin was an incentive as part of a program to encourage attendance.
While enjoying lunch, the group of students in grades 6-8, had a chance to get up close and personal with Justin. Though all the attendees had many questions about Justin's career and football, he emphasized the importance of education and preparation. His mission was to teach the group that regardless of any incentive, they should always want to do their best.
"A lot of times I think adults can come off as preachy, so it was cool just to hang with them and offer some advice based on the lessons I've learned growing up", said Durant. "At the end of the day, I just want them to know that in life you always win if you give 100%."