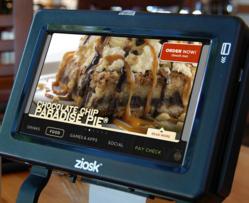 Ziosk is a win for team members, guests and the organization - a win for everyone.
Dallas, TX (PRWEB) December 05, 2012
Ziosk announces the completion of deployment of Ziosk to all Chili's locations operated by Chesapeake Restaurant Group, a franchisee of the Brinker-owned concept. This rollout is a result of a long-term contract with Chesapeake Restaurant Group signed with Ziosk in September.
With the primary purpose of enhancing the guest experience and assisting servers, the Ziosk 7" touchscreen sits on the tables of casual dining restaurants, giving guests the ability to view menu items and specials, order items, play games, watch videos and movie trailers, engage with social media, give real time feedback and pay the check right at the table. Restaurants with Ziosk see higher guest satisfaction, driving frequency and increased sales.
Chesapeake Restaurant Group originally looked at Ziosk to improve the speed of service. "With the recent growth of fast casual concepts, we wanted a way to improve the speed of service for our guests who view time as an important factor. The Ziosk allows guests to pay and leave when it is convenient for them and gives them control over the pace of the meal, while still enjoying a great casual dining experience," said Larry Bien, Operations Manager, Chesapeake Restaurant Group.
And the Ziosk has provided them with other benefits as well. Bien added, "Ziosk is one of the few things we have rolled out as an organization that has truly benefited all our stakeholders. Servers are seeing higher tips, guests are able to order and pay at their convenience and we are seeing increased drink and dessert sales and an increase in e-club enrollment. Ziosk is a win for team members, guests and the organization – a win for everyone."
Bien is also appreciative of the support the Ziosk team provides. "Technology like the Ziosk inside the restaurant involves marketing, point-of-sale integration, operations and training; it really impacts the entire organization. The Ziosk team understands the restaurant business and is very responsive to our needs as a restaurant company."
Ziosk is excited to work with another Chili's franchisee. "We are excited that more and more guests of Chili's are enabled to use the Ziosk to take control over their dining experience," said Austen Mulinder, president and CEO of Ziosk. Ziosk is already installed in 123 Chili's locations across the Midwest that are operated by ERJ Dining out of Louisville, KY.
Chesapeake Restaurant Group, headquartered in Washington D.C, operates 31 Chili's locations and 2 On the Border locations in Virginia and Maryland. The next phase of deployment for Ziosk will include expanding to their On the Border locations in January 2013. Today, Ziosk is deployed in hundreds of restaurant locations across the United States and working with leading restaurant concepts in addition to Chili's such as Applebee's, UNO Chicago Grill, Genghis Grill and Bennigan's. The current footprint has Ziosk serving over 4 million people per month and growing rapidly.
ABOUT ZIOSK
Based in Dallas, TX, Ziosk is the first entertainment, ordering and pay-at-the-table tablet touchscreen for the casual dining restaurant market. The technology, featuring a 7-inch touchscreen and credit card reader, resides on each table and enables the guests to see menu items, play games, view news, order food and beverages and 'pay on demand;' all which gives guests control over their dining experience. With its interactive capabilities, Ziosk and its footprint have created the Ziosk Media Network, a digital media platform for partners to create engaging experiences at the point of purchase. Ziosk and the Ziosk Media Network are revolutionizing the experience and economics of casual dining. For more information, please visit http://www.ziosk.com.