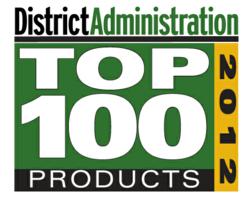 It's not enough today to simply be the best parent notification service. We also focus on supporting the mission of the educator.
– Leib Lurie, CEO One Call Now
TROY, OH (PRWEB) December 05, 2012
One Call Now Parent Broadcast has been selected as a 2012 District Administration Readers' Choice Top 100 Product. With more than 1,000 nominations this year, a new record, the winners were selected by the editors of District Administration based upon both the quantity of nominations and the quality of reader descriptions. The complete list of winners has been announced online and in the December issue of District Administration magazine.
One Call Now CEO, Leib Lurie, stated,"We are thrilled our clients believe in the work we are doing as much as we do. It's not enough today to simply be the best parent notification service. We also focus on the mission of the educator every day through our anti-bullying efforts, our Kids Read Now summer reading program, and our free community calls to raise awareness of upcoming levy or bond votes. One Call Now is committed to protecting, informing and engaging our clients and those they serve. Making the list is an honor we hope to repeat next year!"
The annual District Administration Readers' Choice Top 100 Products award recognizes leaders in the education industry, and provides superintendents and other senior school district leaders with the unique opportunity to learn what products their colleagues around the country are using, and how these products contribute to the success of their districts.
"The record number of nominations we received this year was astonishing," says District Administration's executive editor, Odvard Egil Dyrli. "There were so many excellent recommendations from school administrators who shared how the products made significant differences in their districts, and choosing the Top 100 proved to be challenging and difficult. We are delighted to announce the honorees for 2012 and trust that the list will be a valuable resource for our readers."
About One Call Now
One Call Now is America's largest group message notification provider, with 20% of American households depending on One Call Now for messages that protect, inform and engage. With One Call Now's high-speed, fully redundant service, organizations quickly and reliably send voice, text, E-Mail and Smart Phone messages to tens of thousands of people simultaneously. One Call Now has been honored as one of Inc. magazine's fastest growing privately held companies in America for four consecutive years. Business, Education and Non-Profit organizations depend on the company to deliver messages in 50+ languages throughout 300 countries.
About District Administration
District Administration is the leading provider of smart management solutions for K12 administrators at school districts throughout the United States, and is the most-closely followed and most-widely read information source in the industry, bringing top-quality journalism to the unique issues, challenges and opportunities faced by K12 district executives. For more information, visit http://www.DistrictAdministration.com.