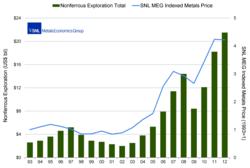 Halifax, Nova Scotia (PRWEB) December 06, 2012
According to SNL Metals Economics Group's (SNL MEG) 23rd edition of Corporate Exploration Strategies (CES), the estimated worldwide total 2012 budget for nonferrous metals exploration rose to $21.5 billion. Despite continued uncertainty in Europe and the United States, along with concerns over waning demand in China, most metals prices remained well above their long-term averages in 2012, giving modest support to the industry; as a result, exploration budgets increased by $3.3 billion, up 19% from 2011 to set a new all-time high. (Note: Nonferrous exploration refers to expenditures related to precious and base metals, diamonds, uranium, and some industrial minerals; it specifically excludes iron ore, aluminum, coal, and oil and gas.)
Historically, major and intermediate producers have adjusted their exploration spending in response to commodity price fluctuations, but in the current cycle many are taking a longer view despite near-term uncertainty, committing to investing in their project pipelines throughout market cycles. As a group, the majors increased their exploration allocations the most in 2012, increasing their share of the worldwide total to its highest point in almost a decade. Conversely, junior companies—largely reliant on access to equity markets to fund exploration—increased their budgets only marginally in 2012, as investor interest waned through most of the year.
Exploration companies continued to expand their global footprint, with exploration planned for 129 countries in 2012, up from 121 last year. The industry also showed no sign of backing away from high- or medium-risk jurisdictions; exploration allocations for these destinations accounted for more than half of this year's total, despite ongoing concerns and uncertainty about security, policy, and resource nationalism. In contrast, the share allocated to mature mining regions such as Canada and Australia fell in 2012, exacerbated by restrained spending by these countries' large junior sectors. Nevertheless, Canada and Australia remained the top countries overall, with the United States, Mexico, and Chile rounding out the top five.
The proportion of overall exploration spending dedicated to early-stage and generative work reached a new historical low in 2012, largely due to stagnant junior budgets. The decline in grassroots's share of spending over the past decade correlates with the upward trend in late-stage and minesite budgets, as junior, intermediate, and major companies continued to spend more on late-stage projects to move them towards production or to make them attractive for acquisition, and producers spent more on minesite work as a less expensive and less risky means of replacing and adding reserves. This reduced focus on early-stage and generative work has led to concern that many companies, and perhaps the industry in general, may be sacrificing long-term project pipelines in favor of short- and near-term growth.
SNL MEG's 2012 study is based on information collected from almost 3,500 mining and exploration companies worldwide, of which more than 2,550 had exploration budgets in 2012. The companies (each budgeting at least $100,000) together budgeted $20.5 billion for nonferrous exploration in 2012. Including our estimates for the budgets that we could not obtain, the 2012 worldwide exploration budget totals more than $21.5 billion.
For more information on SNL MEG's services or the Corporate Exploration Strategies study please visit SNL Metals Economics Group's web site at http://www.snlmetalseconomics.com, email sales(at)snl(dot)com, or call +1 902-429-2880.
About Corporate Exploration Strategies
Corporate Exploration Strategies (CES) is the industry's only comprehensive source of detailed global exploration budgets. CES is the acknowledged benchmark for exploration-related spending, strategies, and worldwide trends. For more than 20 years, SNL MEG's team of skilled analysts has been collecting and analyzing exploration-related information from thousands of companies around the world, providing subscribers with both a global and a granular view of exploration strategies.
About SNL Metals Economics Group
SNL Metals Economics Group (SNL MEG) is the most trusted source of global mining information and analysis. We draw on three decades of comprehensive information and analysis, with an unsurpassed level of experience and historical data. To help our clients reach better decisions more quickly, we supply raw data and sophisticated analysis based on unbiased research and reporting. From worldwide exploration, development, and production to strategic planning and acquisitions activity—our databases and studies help you make confident decisions and, ultimately, improve results.
SNL Financial
One SNL Plaza
Charlottesville, VA
22902
434.977.1600
Other office locations:
New York. London. Hong Kong.
Visit SNL in the Media to learn more about resources available to press.
###