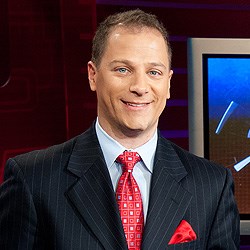 The 4th largest city in the nation, Houston will provide Steve with the ideal platform to begin the next phase of his career.
Glendora, CA (PRWEB) December 05, 2012
The Factory Agency (TFA) is pleased to announce that after 9 years with ESPN, broadcast journalist Steve Bunin has accepted a new position with Comcast SportsNet in Houston, TX. Steve will be the lead anchor for the 6pm and 10pm editions of "SportsNet Central," as well as serve as a reporter for "CSN Houston." The 4th largest city in the nation, Houston will provide Steve with the ideal platform to begin the next phase of his career.
"After nine great years at ESPN, I'm thrilled to begin the next chapter of my career at Comcast SportsNet Houston. It is a great city for me and my family personally and a great sports city for me professionally, with the Texans on top of the NFL, Beardsanity (James Harden) in full effect, the NBA All-Star game in February, and a young Astros team moving to the AL West," exclaimed Steve about his new role and new city.
"We couldn't be happier for Steve with his new role as lead sports anchor at Comcast SportsNet Houston," said Jeremy Snyder, Managing Partner at TFA. "With his love and knowledge of sports and passion for giving back to the local community, this couldn't be a more perfect fit for Steve in the Houston market. TFA is excited about Steve's future with Comcast SportsNet and the opportunities that it will bring in the future."
On top of Steve's love of sports and broadcast journalism lies his passion for coaching and mentoring at-risk teens. Steve received the Presidential Service Award, signed by Barack Obama, for his volunteer work with at-risk youth. Now, in a diverse city like Houston, Steve will seamlessly continue his efforts of working with youth.
About Steve Bunin
Steve Bunin is a broadcast journalist from Seattle, WA. Prior to accepting his position with Comcast SportsNet Houston, Steve was a broadcast anchor for ESPN and frequently hosted the Emmy Award-winning program "Outside the Lines," ESPN's flagship sports news program, "SportsCenter," as well as "NFL Live," "Baseball Tonight," and "ESPNEWS." Steve also provided studio coverage for various live events, including the World Cup, college football, and men's college basketball. A 1996 graduate of Syracuse University's Newhouse School of Public Communications, Steve currently resides in Houston, TX with his wife, Dr. Viviane Bunin and three year old daughter Gabriela. For more information visit http://www.factory-agency.com/athletes/steve-bunin.
About The Factory Agency
The Factory Agency is a specialized sports and entertainment agency helping their clients develop a holistic brand that connects each phase of their lives to pain a cohesive, lasting image. By focusing on the five pillars of brand development – professional career, philanthropy, business interaction, resources/infrastructure, and public exposure – and tying each component together to reinforce an overarching message, TFA shapes clients' desired brand image and develops a plan to monetize the opportunities through the vast network of corporate, media, and personal relationships. For more information visit http://www.factory-agency.com